DISCLAIMER: This content is provided for informational purposes only and is not intended as legal, accounting, tax, HR, or other professional advice. You are responsible for your own compliance with laws and regulations. You should contact your attorney or other relevant advisor for advice specific to your circumstances.
You might know Chef Lisa Brooks from TikTok, but years before she turned to creating cooking videos — and went viral teaching her viewers how to make Jamaican beef patties and landing on the Tamron Hall show — she was a culinary school graduate with a new personal chef business and a lot on her plate.
In the week of Brooks' graduation from a culinary school program, her mother, previously diagnosed with Alzheimer's, took a turn for the worse, and she went immediately into caretaker mode. For Brooks, 52, who has a grown son of her own, "It was like having a child all over again."
In spite of the intensity of that time in her life, and against conventional advice to new entrepreneurs, Brooks decided that expansion of her North Carolina business, Heart and Soul Personal Chef Service, was the only way forward. She began building a team of cooks — even though her original business plan read something like "I will not ever have employees." It's an idea she laughs at now.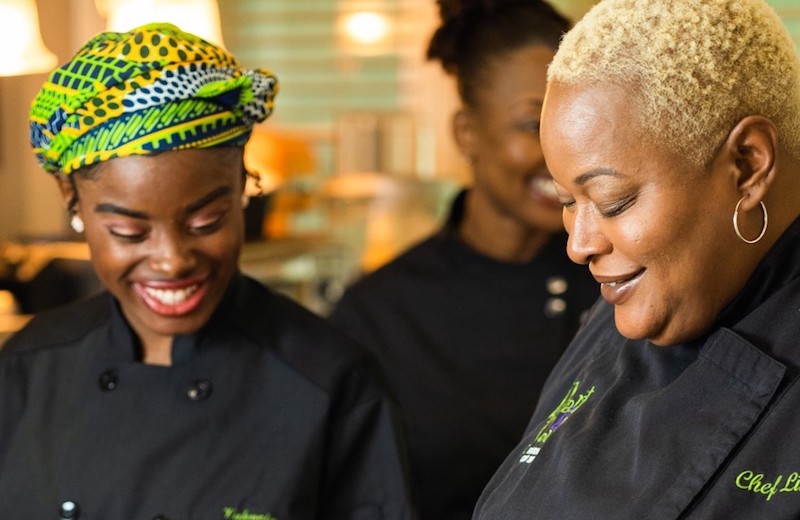 Photo by Amanda Richardson Photography
Brooks believes that growing her team and fostering their skills is one of the smartest business decisions she's made yet. She says being a "one-woman show" means anything — a car accident or the flu — can force cancellation of an event. It can be a path fraught with pitfalls for a single cook. "So, I've cloned myself several times over," she says, expanding her business' reach and capacity. Not only has this been a safeguard in areas of client retention and reputation of the business, but it's shown up in her bottom line. Brooks says this year's Valentine's Day events were up 700 percent from the early days when sales and productivity were dependent on her alone.
Over her 10+ years in the industry, Brooks has also learned that marketing is a crucial piece of any food business.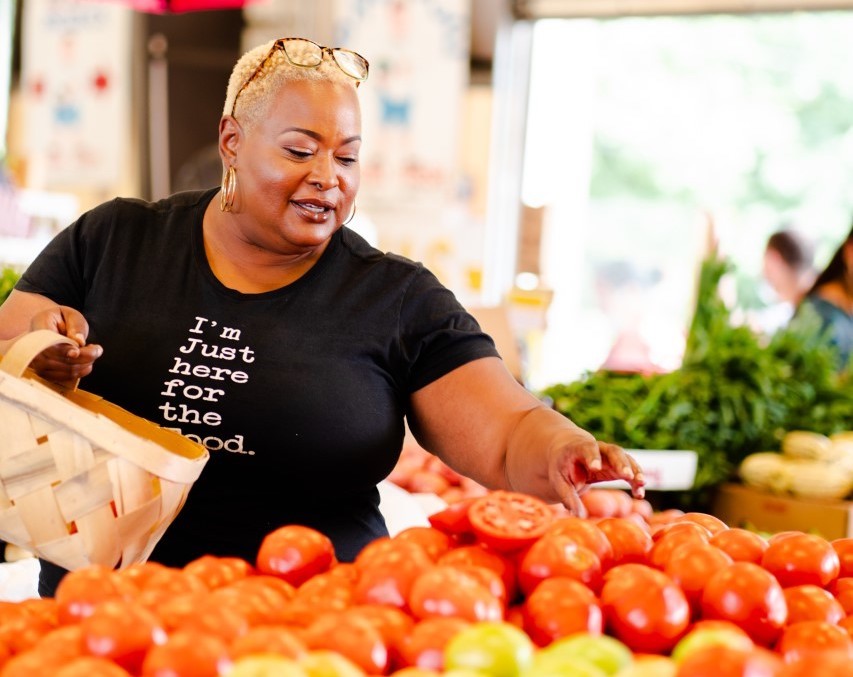 Photo by Amanda Richardson Photography
For about three years, I've had a vision of a culinary tour around the country. I knew that in order to make that dream a reality, I'd have to start building a national following on social media.
Chef Lisa Brooks: TikTok Star
Brooks is a strategic businesswoman. She knows where she wants to be and charts her route. "For about three years, I've had a vision of a culinary tour around the country. I knew that in order to make that dream a reality, I'd have to start building a national following on social media," she says.
This dream brought her to TikTok in the fall of 2020, wondering "how can I teach someone to cook in 59 seconds?" She figured it out.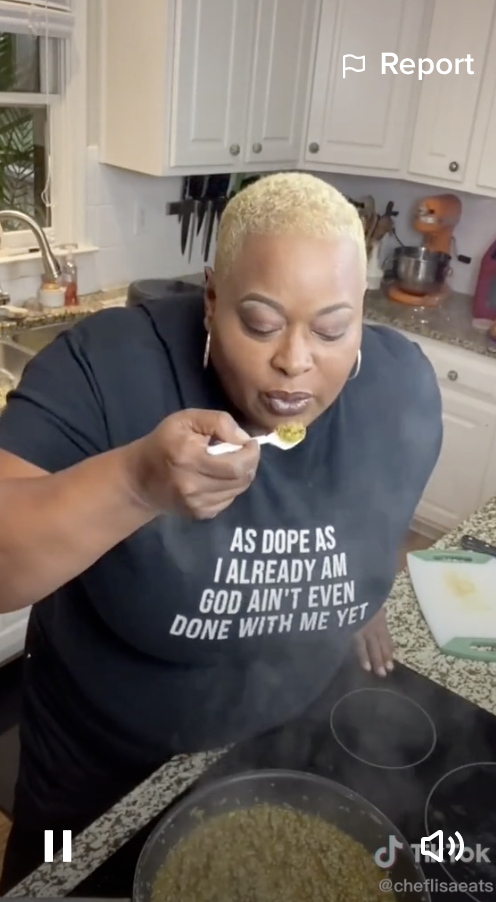 She posted her first video on the platform in September, and by late October, her preparation of Jamaican beef patties went viral, viewed 1.7M times and counting, and it led to her appearance on The Tamron Hall Show.
Since that time, TikTok has become something like a huge culinary classroom for Brooks, where she brings her energy and new ideas weekly to thousands of students at once. "In four months, I gained 115,000 TikTok followers!" She's also made appearances on the Food Network and PBS programming.
For Brooks, sharing her creations over TikTok was only the foundation of her master plan. This summer, her revolutionary team of Black women chefs will embark on a six-week tour of 11 US cities, bringing pop-up dinner parties and more on each stop.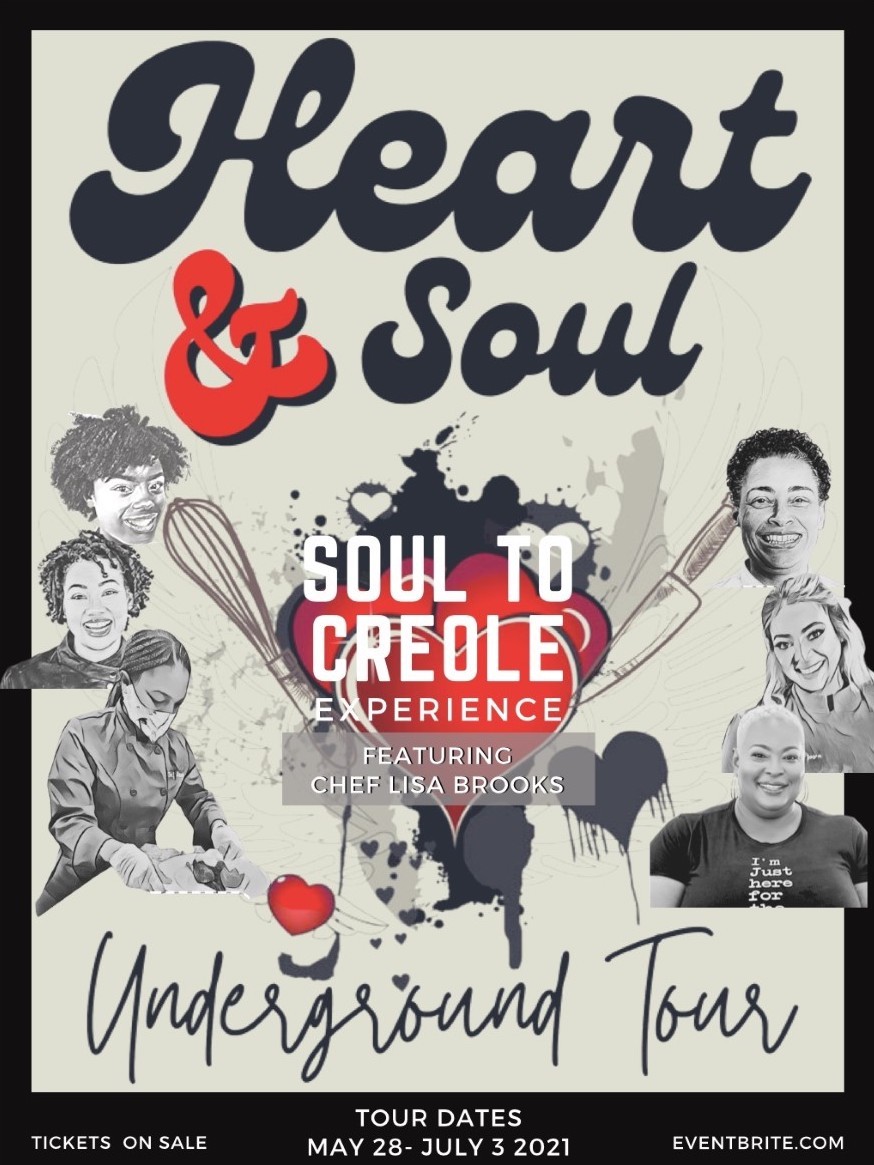 Flyer courtesy of Chef Lisa Brooks
It's her whole mission, she says, to teach cooks how to find, train, and trust others to help their business grow. She encourages entrepreneurs to think and act in ways that attract opportunities. "Don't recreate the wheel," she advises. "Somebody's done exactly what you want to do and could give you a moving sidewalk, so you can get there a lot quicker."
Growing Her Platform on Clubhouse
Most recently, Brooks' visibility has been boosted, ironically, by the new audio-only platform, Clubhouse, where she's been able to engage with 900 chefs in only a month.
The swelling interest across social media confirms her hunch that the personal chef industry is still in its infancy. Clubhouse has already helped to grow the footprint of Chef Lisa's Personal Chef Academy LLC, launched in February 2021. And Brooks' cookbook, The Joy of The Feast, a journey through her childhood in stories and recipes from her mother, grandmother, and great grandmother's, will be available on Amazon in April 2021.
Moving Beyond the Idea of Personal Chefs as a Luxury
Back in 2010, "a personal chef that would come into your home for just a few hours and cook for you? It was a new idea, something people hadn't seen and couldn't imagine," recalls Brooks.
Though she grew up cooking, she's only recently come to understand the particular joys and benefits of personal food preparation. "Most of my meal prep clients were eating out twice a day, then comes a diagnosis that corn, sugar, or dairy is the reason they're swollen in the knees, that their child has a peanut allergy. This is common now," shared Brooks. "And what if that person is soy-free? Soybean oil is in everything. When a person who doesn't cook has to navigate all of that, it's nearly impossible to do. People need the service we provide. It's not really optional for some. My own perspective about the profession has changed. Personal chef service isn't just a luxury anymore."
Crystal Mapp's Foray from Youtube to Taste On T.V.
When Crystal Mapp's second grader was diagnosed with ADHD, she began to think about dietary options that might alleviate his symptoms. The mother of four found promising information about a gluten-free diet, but it came with confusion and challenges, just as Brooks described. "Unfortunately, every healthy lifestyle comes with marketers. I was seeing 'gluten-free' on everything," recalls Mapp. It brought more questions than answers.
Mapp, 39, knew deeper exploration, beyond the claims of the marketplace, would be necessary to understand the best course for her son. This kicked off a kind of test kitchen experiment that began with "veganish" cooking at home, and she realized there might be an audience looking to learn about this flexible, healthier diet.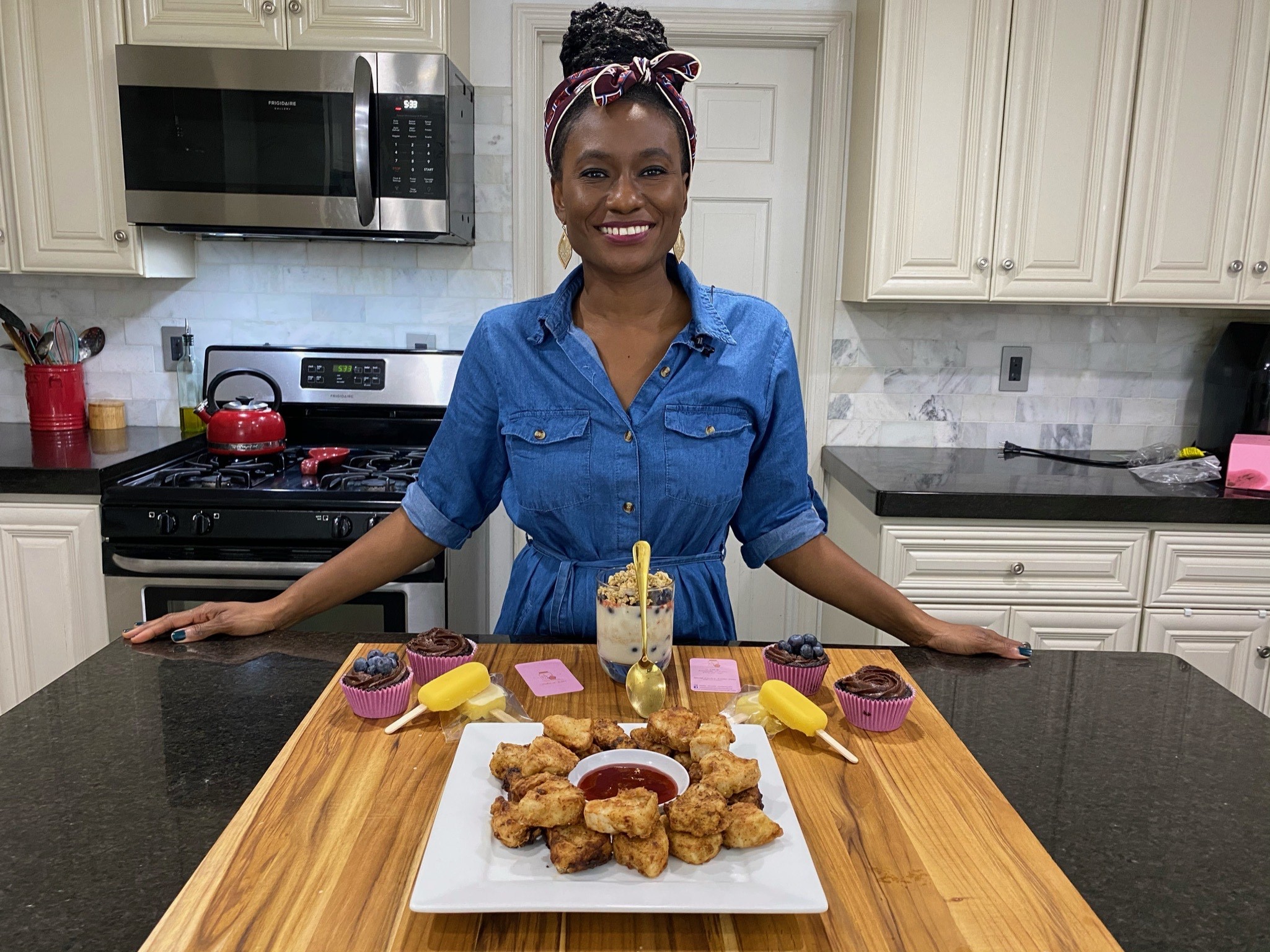 Photo by Ander K. Taylor Jr., The Kitchen Digital + Production
She started sharing videos on YouTube, and later developed her brand through iterations on Facebook and Instagram.
After the murder of George Floyd in May 2020, people the world over began to draw a connection between visibility, representation, and humanity of Black and brown people. It was during that time that Tasteavision Media called out to "chefs, cooks, and lifestyle enthusiasts from around the world to launch the first Black-owned cooking network." Mapp applied and was selected to participate.
The launch of Mapp's cooking show, The Veganish Kitchen, on Tasteavision's Taste On T.V. was covered in The Virginian-Pilot last fall.
Using her Platform to Educate her Viewers
Noting preconceived notions and judgments about food choices, Mapp says "People often [conclude] that being vegan means being healthy, and being a meat-eater means being unhealthy," but these are fallacies, she says. "It's important to realize that both vegan and [carnivorous] diets present challenges to nutrient absorption. Being veganish isn't about being perfect," she explains. "It's about doing what's right for you and your family. It's about putting nutrients first."
In her own "blended family," they've replaced dairy. Some are meat-eaters; some are not. One of the great things about being veganish is the absence of hard-and-fast rules. Mapp says, with veganish living, there's no sense of guilt. Because she provides information and options, and they discuss them as a family, she knows her children are equipped to make their own dietary decisions.
This flexibility and open mindedness resonates with her Taste On T.V. viewers and social media followers, allowing for curiosity about a veganish lifestyle while still enjoying other foods they love.
Mapp is making the most of her growing platform, working on The Veganish Kitchen Series Cookbook, where she'll share The Veganish Kitchen Season 1 creations, including her walnut meat tacos and cilantro lime rice prepared in this episode. She just released The Veganish Kitchen Plant-based and Dairy-free Smoothie Recipe Book and has also already filmed test episodes for The Veganish Kitchen Season 2.
Taste On T.V. was designed to combat exclusion, to educate, and to entertain.
The Origin of Taste On T.V.
Years ago, Terence Quilens Sr., 51, realized a couple of things about food television. "I wasn't seeing people that look like me," he says. Logistical elements were missing too: "I wanted to eat what I was seeing on TV. You know, to have the ingredients in the kitchen and follow the recipe."
He wanted a follow-along experience at home that could produce food that looked and tasted the same as it did on television. "What if there was a network where you could watch food preparation and cook it, following along, from anywhere in the world, or order it for delivery?" he wondered. That's the goal for Tasteavision media, a tech company based in LA, and for its culinary and lifestyle streaming television network, Taste On T.V.
Launched in September 2020, Taste On T.V. features Black and brown cooks and chefs from across the country and around the world. Quilens, President and CEO of Tasteavision Media, scoured YouTube and Instagram to curate charter show hosts like Mapp, with personality and "who were building a following and had something great that people wanted to see."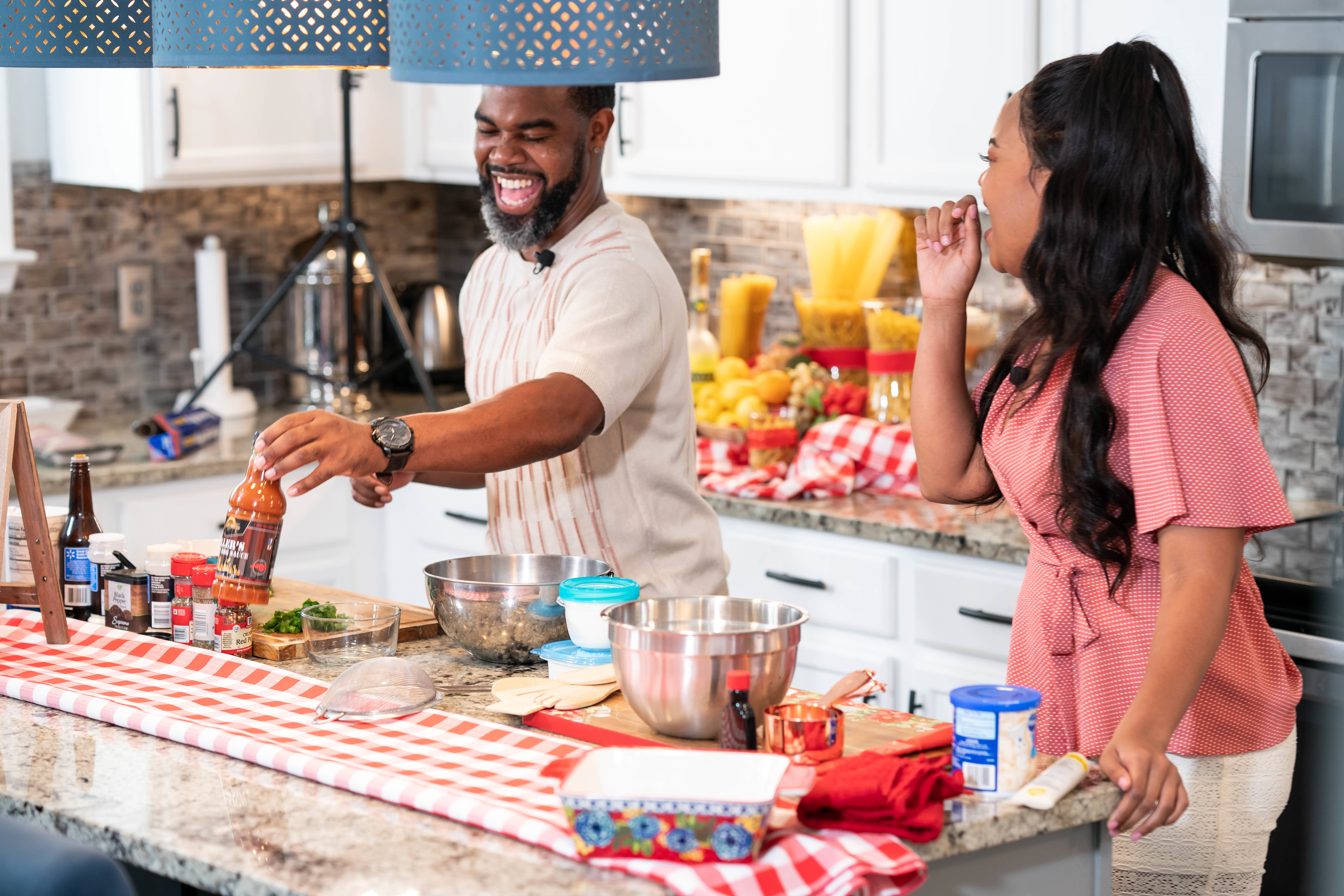 John Miller and Tiye Young, from Eat, Drink, and Handle Your Business. Photo courtesy of Terance Quilens, Sr.
Before he knew it, Taste On T.V. boasted 25 shows, hosted by neighborhood cooks and five-star Michelin chefs — including Jarvis Belton, head chef for Slutty Vegan, and Stephan Berrouet-Durand. The platform "is fulfilling the dreams of so many creatives because it was made with them in mind," said Quilens.
Quilens says Taste On T.V. provides an affordable video platform whereby underrepresented cooks and food business operators can increase brand exposure and audience, and even monetize their content. Taste On T.V. was designed to combat exclusion, to educate, and to entertain — and Quilens says they're rolling out new programming all the time.
Families alone together during the pandemic have logged 1M+ views and 3M+ organic impressions on the platform, shared Quilens. With its international presence in Nigeria, Ghana, Tanzania, and beyond, Quilens says Taste On T.V. is "bridging the gap between our brothers and sisters in Africa and the US, both culturally and economically."
With Taste On T.V. on-demand, a cooking class can happen anytime, at viewers' convenience. And Quilens has big plans for the platform's future. "When you see a chef preparing a meal on the network, you'll be able to have that meal delivered to your home in a day or two," he says. With every meal prepared and broadcast over Taste On T.V., viewers will have an option for home delivery of the meal or the ingredients.
Chef Lisa Brooks, Crystal Mapp, and Terence Quilens, Sr. are pursuing their culinary and food media dreams. Let's watch and learn.
In addition to its on-demand option, Taste On T.V. is accessible via Android and iOS apps, Roku streaming devices.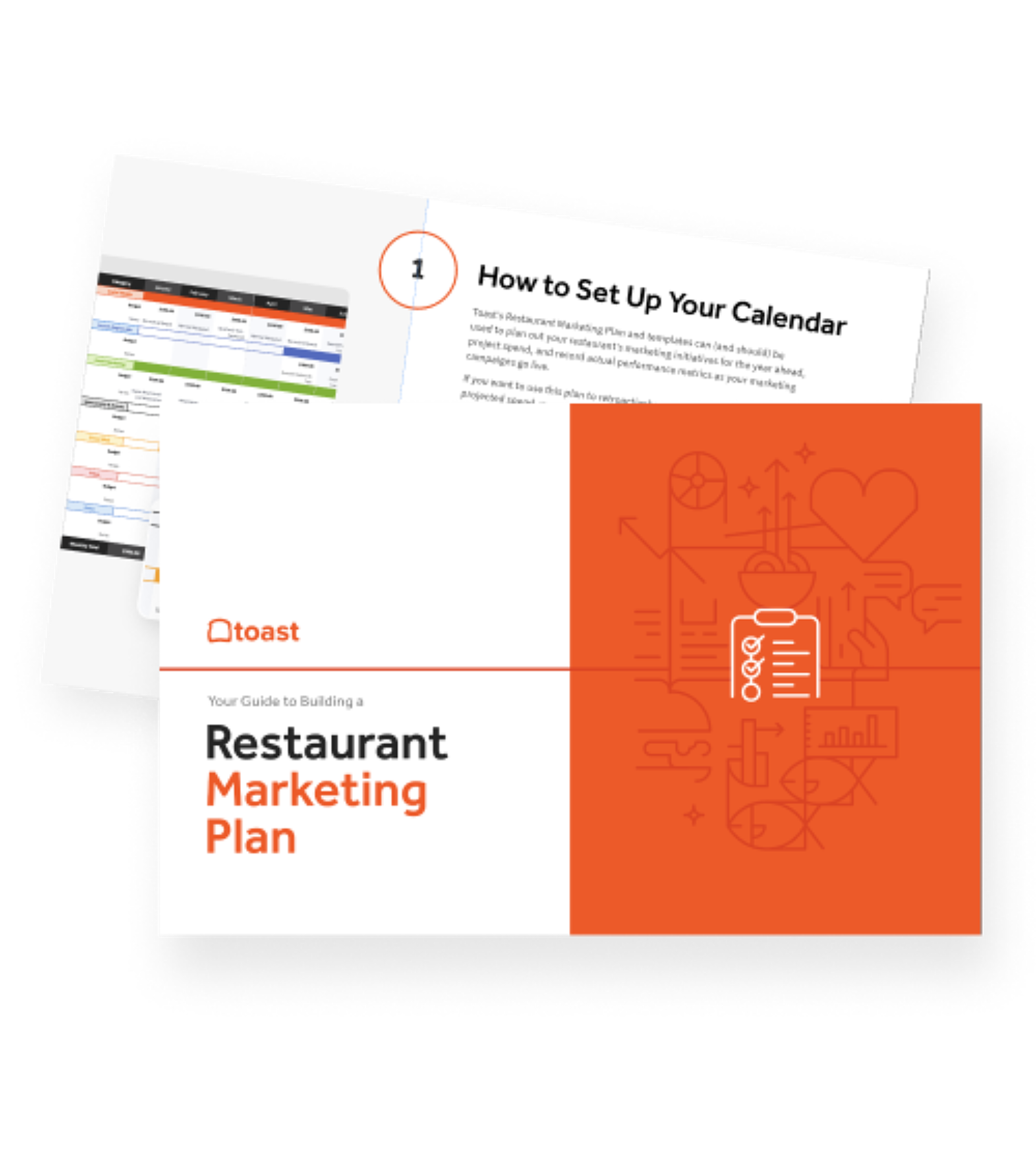 Restaurant Marketing Plan
Create a marketing plan that'll drive repeat business with this customizable marketing playbook template and interactive calendar.
Download