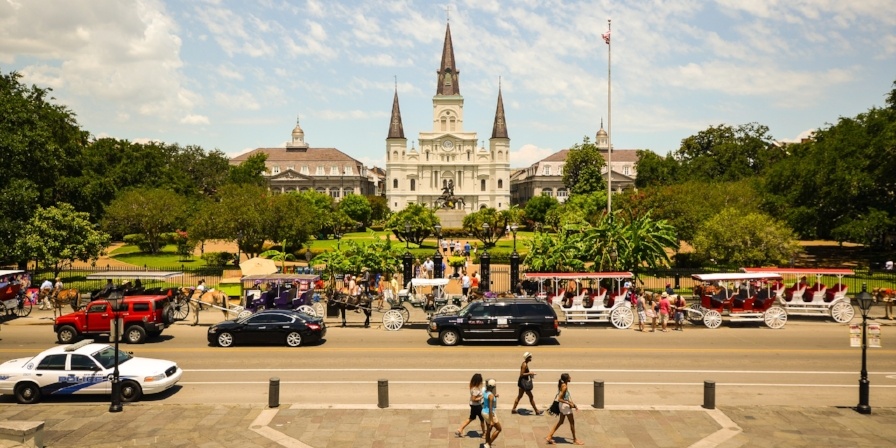 "New Orleans is home. That's why we use the phrase "Nola Bred. Nola Fed." It's our home. And that's what makes it special."
- Richard Brennan, The Richard Brennan Group
I travel a lot for work. A big part of my job is attending all the restaurant and hospitality trade shows across the country (well, not all...but it sure feels like it). Just this year, I've been to Ohio, DC, Maryland, Wisconsin, Tennessee, Maine, Oregon, and Texas.
Next stop: New Orleans, Louisiana.
I'm headed to the Louisiana Restaurant Association Expo this weekend. I've never been to New Orleans, so naturally, I've been researching it extensively. I may have even created a new Pinterest board for it. And one thing that I couldn't help my notice in my research was the absolute extraordinary focus on community. Almost every restaurant website I looked at had a tab linking to "community" or "philanthropy."
New Orleans Restaurants' Focus on Community
I was going into my junior year of high school when Hurricane Katrina hit - old enough to understand that something horrible happened, but still too young to understand the impact. Hurricane Katrina was one of the top five deadliest storms in the United States, not to mention the costliest. The levees broke, and 80% of New Orleans and its surrounding neighborhoods were flooded in the storm.
New Orleans restaurants were among the "first signs of life" post Katrina. They served as safe havens and community centers.
From an article written for the The Hartford Courant, and posted on Hotel Online from 2006, Ti Adelaide Martin, the Co-Proprietor of Commander's Palace, said "It's part of our lifestyle to talk about food, to talk about drink," and, "I think we've always had that connection with the food and the restaurants."
The city's restaurant community has been a leading force in bringing back spirits. They basically became mini town halls all over New Orleans. It's where people went to commiserate and to get information.
New Orleans Restaurants Doing Good
In the same article from The Hartford Courant, Mary Beth Roming, the PR Director for the New Orleans Convention & Visitors Bureau, said:
"The restaurant community has been a true leader and heroes in the recovery. A number of the big chefs in town came back before they were supposed to and were cooking food for the first responders. They were cooking for workers just out of the kindness of their heart."
In an interview with the Houston Chronicle, John Besh, Louisiana native and founder of the Besh Restaurant Group, recalls the following:
"The first batch of red beans and rice I cooked was in a Walmart parking lot on Tchoupitoulas," Besh recalls. "It was the first time I ever fed a person who was truly hungry. Oh, I've fed hungry people before, but never people who were so hungry and had everything taken away from them. That changed my life."
Giving Back: The NOLA Restaurant Community in Action
Before Hurricane Katrina, New Orleans hosted 800 full-service restaurants. As of 2015, they had more than 1,400. And 12 years post-Katrina, New Orleans restaurants are still working for their communities.
Ralph Brennan Restaurant Group
The Ralph Brennan Restaurant Group highlights Social Responsibility as one of their core values, and not only do they encourage their employees to donate their time and energy to help making New Orleans a better area to "live, work, and play," but they practice what they preach.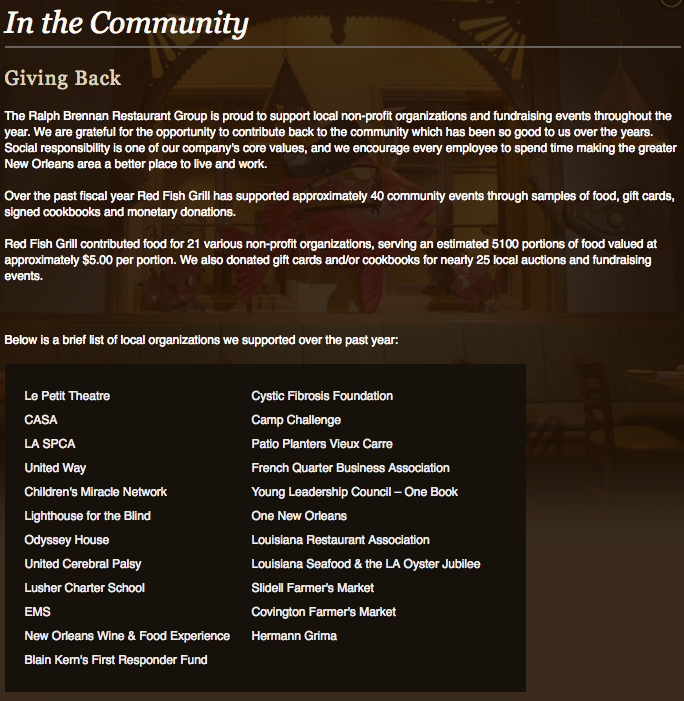 Red Fish Grille, one of the group's more casual seafood restaurants - and one of the first restaurants to open post-Katrina - boasts 40 charities they've contributed to on their donation page - and that's only in the past year! Listing the Children's Miracle Network, the LA PSCA, and the Cystic Fibrosis Foundation, Red Fish Grille and the Richard Brennan Group served over 5,100 portions of food over the last year.
Link Restaurant Group
The Link Restaurant Group Link Restaurant Group partners with NOLA Green Roots, Kingsley House, Tipitina's Foundation, Alex's Lemonade, Southern Foodways Alliance, Chefs Collaborative, Edible Schoolyard, Hogs for the Cause, and the Ogden Museum of Southern Art...to name a few.
Dick Brennan & Co. Restaurant Group
The Dickie Brennan & Co. restaurant group lists their primary objective as "[improving] the quality of life for the people in the Greater New Orleans area" in hopes to see "the city's continued development, while maintaining its unique cultural heritage."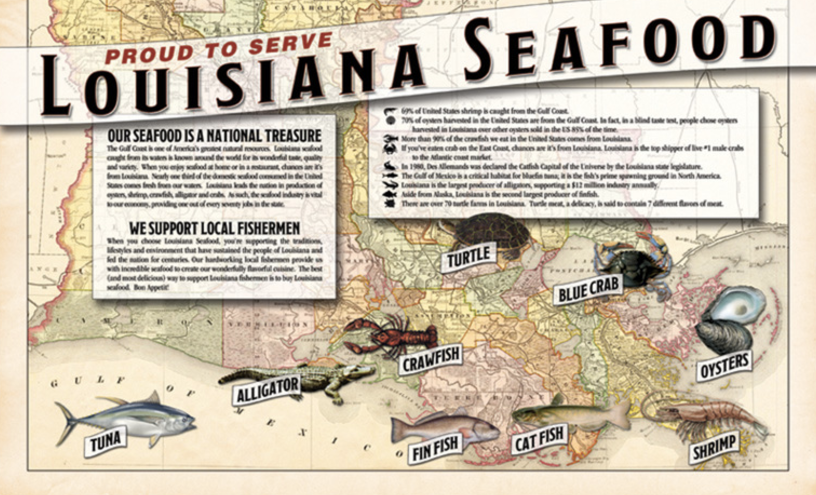 To do this, Dickie Brennan & Co partners with local purveyors and suppliers that have a longstanding history in the food and hospitality industry in New Orleans, including:
P&J Oysters, the nation's oldest oyster distributor
Gonsoulin Farm, which has been raising cattle in Louisiana since the late 1700's
Leidenheimer Baking Company, which has been baking for the New Orleans restaurant community for over 100 years
Cafe Reconcile, Liberty Kitchen, and Cafe Hope
Cafe Reconcile might be the epitome of a community-focused restaurant, in that it is a program first, and then a cafe/catering service. The cafe started as an initiative to "to address the system of neglect, violence, and generational poverty that had plagued out-of-school youth in New Orleans' troubled Central City neighborhood." Since it's founding in 1996, 1,500 students have graduated its program and has acquired over 100 active partnerships.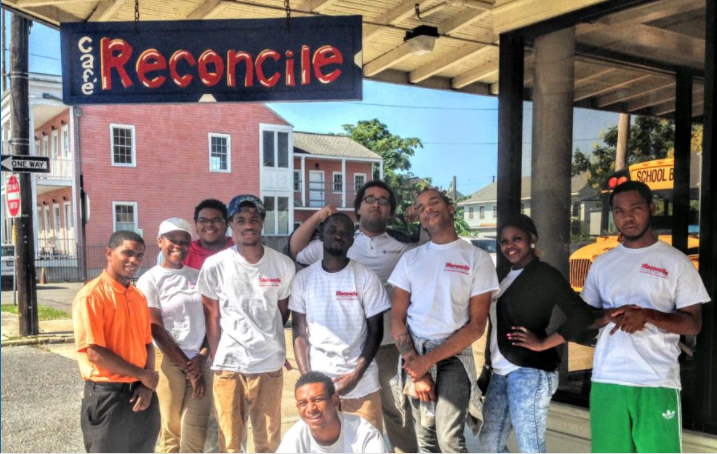 With programs like Cafe Reconcile, Liberty's Kitchen, and Cafe Hope, New Orleans is well on it's way to revitalizing the city.
These three programs are the epitome of community-focused restaurants. Programs first and restaurants second, these three organizations focus on providing the youth of New Orleans with skills to successfully enter the the real world and workforce. These programs focus on transforming the lives of the upcoming generations of New Orleans through its favorite means - food.
New Orleans Moves Forward
If not for the people behind the scenes, New Orleans wouldn't be making the strides it is as a city these days. Stemming from his work after Hurricane Katrina, John Besh started The John Besh Foundation in 2011 to bring awareness to the New Orleans community, and provides scholarships, grants, and loans to people who are fulfilling that mission.
Because that's just the kind of community that New Orleans restaurants operate in.
Psst...Toast will be at the LRA Expo this weekend at Booth #201! Come say hi!