The amount of reviews a restaurant receives is essential to the organization's overall growth. The number of positive reviews from a restaurant's happiest customers can help the restaurant grow its revenue.
Restaurant Reviews Matter to Your Bottom Line
Ratings matter, according to a study by Harvard Business School professor Michael Luca. Restaurants on Yelp will see a 5% to 9% increase in revenue if their rating increases by one star.
"Consumers respond more strongly when a rating contains more information," Luca writes.
When a restaurant has at least 50 reviews, a change in the restaurant's ratings has 50% more impact than a restaurant with fewer than 10 reviews, according to the study.
"If each consumer review presents a noisy signal of quality, then having many reviews should cause the overall rating to contain more information and hence have a large impact," according to the study.
The Caveat
Negative reviews are extremely effective for a business to succeed and grow... if the business catches the review early and uses the negative review as a tool to improve the guest experience.
Start by Welcoming Feedback
Negative reviews are everywhere. Every business gets a negative review – it's just going to happen, as not every customer can be happy with a product or service. Businesses must welcome all feedback and use it to improve the overall quality of their restaurant for continued growth.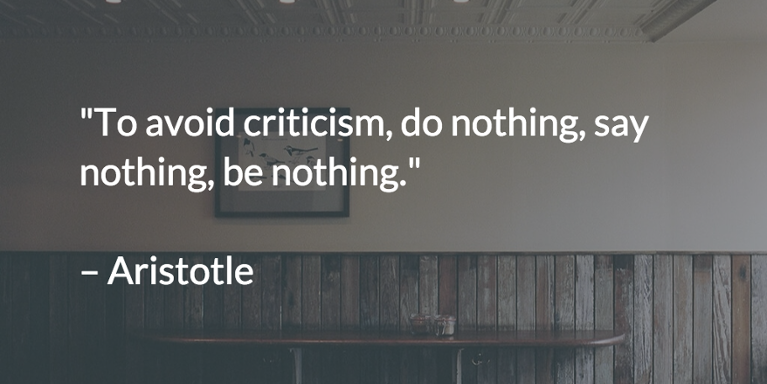 "To avoid criticism, do nothing, say nothing, be nothing." – Aristotle
Click to Tweet!
A business should take action when they receive a negative review. It's important the business has the right tools to catch and respond to the review quickly and accurately. Businesses should have a strategy in place to manage online reviews and catch the reviews quickly before they become difficult to manage.
Consider Your Net Promoter Score
The Net Promoter Score (NPS), an index businesses use to measure customer satisfaction and loyalty, is a great way to capture customer feedback early. By using NPS, businesses can connect with their customers who leave negative feedback before the situation spirals out of control.
As a relatively new tool for measuring success, businesses using NPS can identify three types of customers by asking, "How likely is it that you would recommend the company in question to a friend of colleague?"
It's a simple survey question, which is one of the reasons why NPS works. The NPS categorizes customers by their type of response. There are promoters, passives, and detractors. Promoters are loyal to the business and cause the business to grow, passives are satisfied customers, but will not necessarily help in growing the business and detractors are unhappy customers, who can damage a business's brand.
Respond to Reviews
Negative reviews should be used as customer feedback to improve a business's customer experience. When responding to reviews, especially on social media networks like Facebook and Yelp, restaurants should have a rapid-response strategy in place to seek expedient resolutions to negative reviews and making improvements. A fast response rate is 24 to 48 hours, so a business should not wait too long. Restaurants should set a target response time and assign someone to respond to negative reviews.
When businesses respond to reviews quickly, it shows a high level of commitment and care to the customer. The goal of responding to reviews is to improve customer loyalty, so do not blame anyone for the complaint; fix the situation with a sincere tone.
A business that gives timely online feedback to customer feedback (reviews) on third-party reviews sites grows in its appeal, credibility and trust to the consumer. By managing reviews, businesses will see the amount of their reviews grow creating continuous growth and customer loyalty.
Follow Up With Clear Actions
Reviews give businesses an efficient way to recognize and modify operational shortfalls. Customers might post a review about waiting too long for their food, which is an issue that otherwise could have taken too much time to figure out. Even more, a business could waste resources on areas that do not necessarily need improvement if they do not monitor their online reviews.
There is great value in honest feedback. If a restaurant receives a one-star review, this allows the restaurant to see where there needs to be an improvement in business operations and how a business can improve the customer experience. Restaurants should evaluate how a problem originated and fix the issues that need to be fixed. It should be noted that it's important for the business to determine if the feedback is legitimate and fair.
Launch a Promo
A restaurant can use tools such as Facebook or Google+ for promos to target consumers. Businesses launch promos on their own site then use Google+ to promote their product or service.
Improve and Modify Menu Items
Even more, restaurants that improve their menus will increase their profits and give them a competitive advantage. Online reviews can give restaurants unique ideas for new menu items. In addition to adding menu items, restaurants can use online reviews to remove menu items that are not working well.
Restaurant owners should always keep this in mind: negative restaurant reviews can work to your advantage if they are embraced, and if they are used as a way to improve the business.