A quick disclaimer: I'm a proud meat lover, but Meatless Monday has become too relevant to not write about.
Meatless Monday originally started out as a rationing and preservation campaign during the two World Wars. Now, the idea of "Meatless Monday" has become a full-fledged campaign spanning across international borders. Proponents of Meatless Monday advocate for a weekly abandonment of all fish, pork, beef, and poultry for healthier bodies and a better environment.
The official movement as we know it now kicked off in 2003.
Fast forward to today and Meatless Monday is a phenomenon. Those supporting the initiative include:
TV Personality Oprah Winfrey
Academy Award-Winning Filmmaker James Cameron
"Sister, Sister" star Tamera Mowry
Former Vice President Al Gore
Singer Jessica Simpson
Former American Idol Judge Simon Cowell
Musical Sensation Paul McCartney
It appears that this movement is just at the tip of the iceberg.
So, time for the $64,000 question: should you incorporate Meatless Monday in your restaurant?
Based on my research, I see no harm with introducing a Meatless Monday plan for your restaurant. In fact, I only see benefits.
Why You Should Introduce Meatless Monday in Your Restaurant
I wouldn't be telling you to partake in this initiative just because a few celebrities think it's a good idea. The fact is there are some compelling arguments to be made for introducing Meatless Monday in your restaurant. Here are some of the ones that I've found.
1. This Would Reinvigorate Monday in Your Restaurant
Anyone who has worked in a restaurant knows this cold, hard truth - Monday is typically the slowest day of the week. In fact, it's not uncommon for some smaller mom-and-pop restaurants to stay closed on Monday because it simply is not profitable to keep the doors open.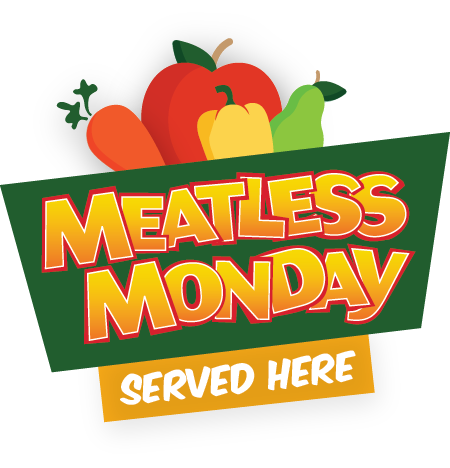 The solution: craft up a unique Meatless Monday menu. Obviously, you probably have meatless items on your menu regardless of the day of the week. However, you can use this occasion to form a special menu of meatless items exclusively for Monday. Veggie omelets for dinner, homemade veggie burgers, or replacing steak/chicken dishes with tofu help to switch up your guests' options.
If you'd rather not invest fully in a new menu for just one day of the week, you could also offer discounts on veggie products. For example, if you own a pizzeria, your restaurant's Meatless Monday special could be "Buy any pizza with a veggie topping and get a second topping at no extra cost."
This is also an opportunity to engage with your loyalty program. If someone's meal contains no meat, offer double the points with your loyalty program. This will bring more people into your restaurant (because who doesn't love free points?) and will boost participation in your restaurant's Meatless Monday program.
2. Meatless Monday Doesn't Have to be Totally Meatless
I've already said this, but it bears repeating - I love meat. I typically don't go a day without meat, and if I do, I eat twice as much meat the next day to make up for it. Now, if I want to go to your restaurant on a Monday, should I be forced to choose an option not containing meat? I should hope not.
Let's draw a comparison between Meatless Monday and Fridays in Lent for practicing Catholics. Some choose not to eat meat on these days because of their religion. But what about those who do not observe this?
When I was in high school, the pizzeria I worked at put up a special menu during this time of year to highlight fish and non-meat specials. However, we did not restrict the sale of meat on these days - we just gave more options and incentives for those who did choose to go meatless.
Long story short: just because your restaurant is participating in Meatless Monday does not mean you have to remove meat from your menu on Monday. If someone comes in and wants a steak, sell 'em a steak. Otherwise, you'll probably lose their business on that Monday (and maybe every other day of the week, too).
3. Boost Your Social Media Presence
Last Monday, I noticed that #MeatlessMonday was trending on Twitter, and it wasn't the first time I saw this. People are talking about this movement.
This is an opportunity for you to post an image of your Meatless Monday menu or of one of your irresistible Meatless Monday specials on Facebook, Twitter, and Instagram with the hashtag #MeatlessMonday. Let your followers and loyal patrons know that if they are participating in Meatless Monday, they can come to you.
This is also a fantastic way to grow your social media presence in general. Social media users love timely topics, and they love images. When you post both of these on your page, expect to see more engagement and follower growth.
If you offer online ordering, you can even link to your site right on the post itself so someone can jump right to placing their order.
4. People are Becoming More Conscious of Their Environment and Their Health
While the roots of Meatless Monday lie in preserving provisions during times of war and uncertainty, things have changed. Meatless Monday resurfaced because people want to take care of their bodies and their surroundings.
With less consumption of meat, less animals need to be processed and sent to restaurants and grocery stores. Back in 2012, over 90 million pounds of meat and poultry were produced. The ramifications? An excessive amount of greenhouse gases, like methane, get released into our atmosphere. Also, don't forget about the amount of food it takes to feed the livestock and the fuel it takes for transportation.
Looking for a way to make a difference, people are backing Meatless Monday as a small but real way to make the world a slightly better place.
But let's not forget what Meatless Monday does for our own bodies. Studies have found that the chances of being afflicted by the following illnesses and diseases decreases when one limits the amount of meat they consume, opting instead for healthy grains and vegetables:
Obesity
Heart Disease
Cancer
Diabetes
Stroke
As the Meatless Monday movement continues and consumers become more health conscious, I predict a marriage between these two ideals. By offering Meatless Monday options in your restaurant, you can contribute to a healthier planet and healthier patrons, which your guests will take note of.
5. Everybody's Doing It!
Okay, so not every restaurant is participating in Meatless Monday, but a lot of them are. Some notable standouts include:
Moe's Southwest Grill: In an effort to promote healthy living, Moe's uses all-natural ingredients. They also offer six meatless options on their menu at all times, including their tofu - which has become a Meatless Monday favorite.
Lime Fresh Mexican Grill: Lime Fresh offers 20% off meatless items every Monday in their restaurant chain.
Dovetail: Classy New York restaurant Dovetail offers a prix fixe menu for Meatless Monday. Customers can choose to eat vegetarian plates or "vegetable focused" plates, which feature limited amounts of meat to compliment to dish.
These three restaurants are very successful in their respective areas, and if they are making Meatless Monday work for them, I have no doubt that you will be able to do the same.
Meatless Monday in Your Restaurant
Do you offer any menu specials or weekly promotions for Meatless Monday in your restaurant? Has this article inspired you to go meatless? Let us know your Meatless Monday thoughts in the comments below!