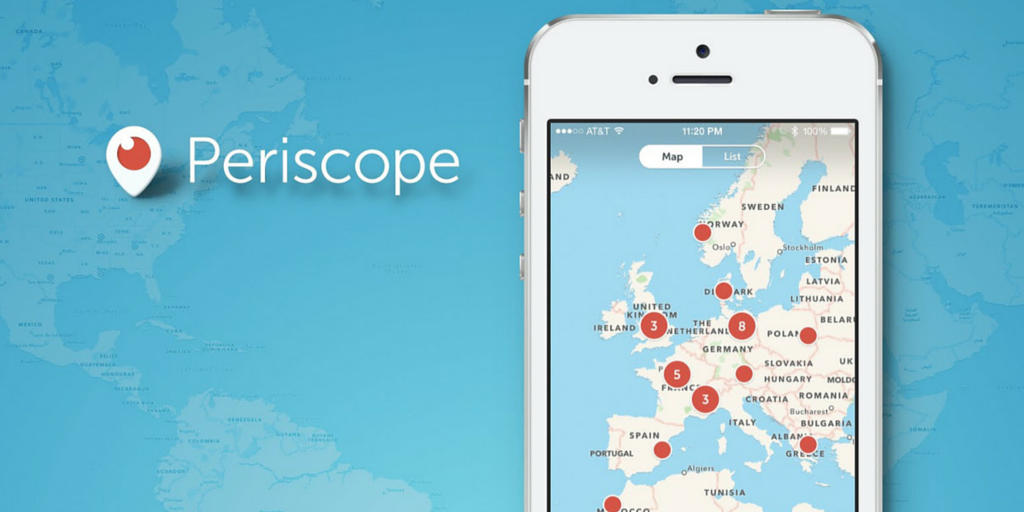 Is Periscope just another social media fad? It's a fair enough question; sometimes it seems like a trendy new app emerges every week. Since there are so many other social networks out there, you might have decided that live video isn't worth your attention.
But there are a few important things you should know about Periscope. For one, it currently has 10 million registered users. Savvy celebrities like Michelle Obama and Jamie Oliver are using it to increase their popularity by chatting to fans in real time. It's also owned by Twitter. That means it ain't going nowhere anytime soon.
For restaurants, it's a perfect low budget marketing tool, because it doesn't involve a lot of work. You just hit record, and a live stream of your venue is visible to anyone.
If that doesn't convince you how powerful it can be, consider this: though 40 years of content is viewed every day on Periscope, few restaurants are actually using it. That means if you jump on board now, you have a great opportunity to distinguish yourself as a forward-thinking brand.
How Does Periscope Work Exactly?
Once you've downloaded the app on your smartphone, you can either film a live broadcast yourself, or tune in to a live stream being filmed somewhere else in the world. Until recently, broadcasts were only available for 24 hours, but they are about to become permanent, which is another excellent reason to jump on board now.
To start a broadcast, you just press record. Then you can see how many people are tuning in and how many 'hearts' you're getting (that means they like what you're saying).
You can connect your Twitter account to your Periscope account so that all of your broadcasts go out on Twitter. That way you can use hashtags to extend your reach even further.
How Restaurants Can Use Periscope
There are so many ways restaurants can connect personally with their customers through live video. Here are just a few ideas you can borrow from other restaurants.
1. Run real-time Q&As
One of the best things about Periscope is that viewers can send you messages during your broadcasts. That means you can run a live question and answer session with a member of your team, like the chef or the manager. Give people the opportunity to know and like the faces behind your restaurant, and they will be even more interested in booking a reservation.
Let your other social media followers know in advance that they can tune in and ask questions, like these food bloggers have done for their interview with Chef Esdras Ochoa. And make sure you have some questions prepared just in case things are slow to start.
NAIT's School of Hospitality and Culinary Arts @naitofficial interviewed celebrity chef Vikram Vij live on Periscope, which allowed him to answer personal questions straight from his fans. Here's a recording of it on YouTube.
2. Take people behind the scenes
Ask one of your staff to take their phone through the kitchen during a shift, and show your customers how the magic happens. Foodies go nuts over behind the scenes photos on Instagram, so they're going to love a live video stream. It lets them feel like they're in on a secret and it increases their trust in your restaurant because you're being so open about showing them.
Mario Batali @Mariobatali often takes his Periscope viewers on behind the scenes tours of his venues. His 38,000 followers can't get enough!
3. Show off a dish
Want to debut a new dish? Do it live on Periscope. That way you can also get instant feedback from your customers. Let them ask questions about things like the ingredients, why you decided to add the dish onto the menu and where inspiration came from. This is also a great way to draw attention to an overlooked item already on your menu – show them how it's made and encourage them to order it next time they come in.
4. Give a cooking tutorial
Give away some exclusive cooking secrets – I know if my favorite restaurant did that I would definitely tune in! Ming Tsai @chefmingtsai the chef and owner of restaurants Blue Ginger and Blue Dragon, regularly shows viewers how to make fusion dishes on his page.
5. Announce freebies
Taco Bell @tacobell revealed live on Periscope that they would be giving away free Biscuit Tacos on Cinco de Mayo. It played out like a mock press conference (they treat their whole channel like a parody news station). Now that customers know they can get news about exclusive giveaways, their following has skyrocketed to 54,000.
6. Show off your venue
Photos and online reviews can only tell so much. Live video allows people to use their other senses to explore your restaurant – and it isn't staged like a TV ad. Diners can get a much better picture of what it sounds and feels like to experience a meal in your venue, because it's completely in the moment. Check out this live tour of Restaurant Trentina for an example. Restaurant review site Zagat @Zagat actually showed viewers around Ryder Farm in New York with a drone if you want to take things next level!
Get on Periscope today!
Start following these accounts to get a feel for what you can do on Periscope (and make sure you turn on your notifications so you know when they have a new broadcast):