Article
How to Reduce Wait Times in Restaurants With Line Busting
Reducing wait times in restaurants leads directly to more profits.
Yesterday, I begrudgingly left the line at my favorite lunch spot to go to the restaurant across the street. I was crunched for time and knew that the line there – despite being out the door – would move so much faster.
For quick-serve and fast-casual restaurants, line efficiency can mean the difference between crushing the lunch rush and gazing longingly at the popular joint next door. Knowing how to reduce wait times in restaurants is imperative for customer retention.
When I talk with restaurateurs about why they adopted a new piece of technology, they usually talk about efficiency. They're investing in new technology like self-service kiosks, online ordering, and some have even built their own order-ahead app in an effort to speed up the line.
I also learned that one of the most effective ways to combat the dreaded queue is by leveraging mobile tablets like Toast Go™ to shorten the line at QSRs. It's called "line busting," and it can drastically decrease wait times at your fast-casual restaurant.
What is Line Busting?
"Line busting" is a system where cashiers work up the line to take orders on mobile tablets faster than the counter staff can work the stationary terminal. It enables the kitchen to start working on orders faster, which improves throughput and guest experience.
Below, Abi Tambasco of The Mug explains how her restaurant wields handhelds to line bust.
As another example, Flour Bakery, an award-winning cafe in Boston, sets a goal of serving customers within seven minutes of payment. They've accomplished this by outsmarting the line with handheld tablets.
As guests wait in line at the counter, a worker works his or her way up the queue taking food and latte orders. When the guest reaches the counter, the cashier opens their order and the guest can pay by cash or card. With tablets built for the restaurant industry, a credit card processor is part of the hardware, meaning your restaurant essentially gets an extra terminal without the space requirements or setup time.
With this system, orders are fired directly to the kitchen from the mobile tablet and the grill cook is preparing your egg sandwich (which is incredible, by the way) before you've even paid for it.
Tanya Li, the assistant director of operations at Flour Bakery, told me that this system allows them to be at least a few minutes faster on each order.
Why Line Bust?
Some quick-serve or fast-casual restaurants believe line-busting is not for their concept.
Well, in short, we think they're wrong. Line busting in restaurants allows for these four advantages.
1. Faster Line = More Revenue
One expert study found that just a seven-second reduction in customer wait times increases a fast-casual chain's market share by as much as 1 percent.
How many more guests would you serve if you were three minutes faster with each transaction?
Spoken Cafe, a high-traffic coffee shop between two major train stations in Chicago, noticed the business impact from line busting.
"[Line busting] has made a huge impact on helping us get through the rush faster," Will Goodwin, the owner, told me. "We use handheld tablets to jump through the line and take orders before people get to the counter. The average ticket time during our rush is down to about 8.5 minutes, which is much better than it was with our pen-and-paper system."
2. Bringing Full-Service Hospitality to Fast Casual
Line busting brings the hospitality of full-service restaurants to the quick pace of the fast-casual experience.
In addition to efficiency, handheld tablets get staffers out from behind the darn counter! Cashiers can finally break free from the back and start engaging with guests.
Eventide Fenway adopted this model in their restaurant. Rather than force customers to get back in line, employees work the floor – tablet in hand – and take orders for additional food and drinks right at the table.
3. Your Restaurant Is In Your Hands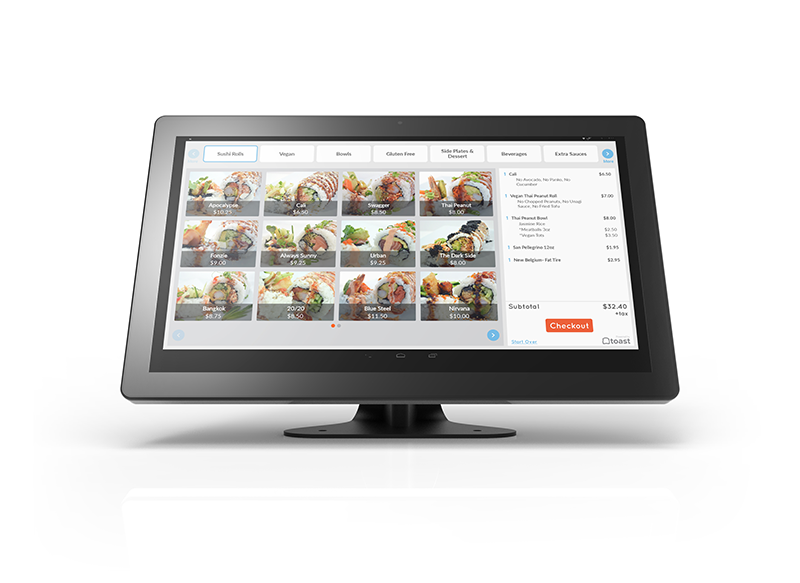 The future of the restaurant POS is in your hands, not on a counter.
Restaurant handhelds reduce restaurant wait times by placing a fully-functioning terminal in the hands of employees, enabling mobility and immediacy not possible with stationary terminals. The ability to take an order, slip the terminal into your pocket, and then bag a customer's order is both efficient and empowering.
Looking for more ways to shorten the line? Try processing orders ahead of time with online ordering or giving guests the option to choose their own adventure with.
4. More Tips
As the economy becomes increasingly cashless and the cash tip jar is dying, workers will still want to earn their tips.
With line-busting technology, tipping is an easy prompt, and since guests will be impressed with the speedy service, bulk tips might increase for your workers.
How to Reduce Wait Times in Restaurants: 3 Steps to Success
Step 1: Get the Right Technology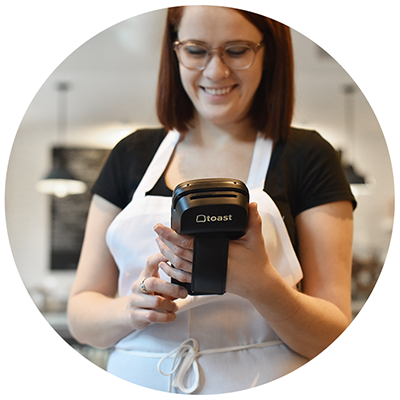 You can't effectively line bust with pen and paper.
While this may result in customers giving their orders faster, orders still need to be entered into the POS and guests need to pay. The only devices that were built to do this are restaurant-exclusive handheld terminals like Toast Go.
Without the added efficiency from these handhelds, line busting could actually backfire. Having 3-4 people working the counter all fighting over the two POS terminals for checkout could make things a lot messier than if there were one or two employees manning it.
Step 2: Train Your Team
Many worry that a handheld tablet might impede restaurant hospitality, but actually it can enhance hospitality — with the right training.
When training your employees on this new system, ensure they stick to the customer-centric, guest-delighting values of your restaurant. Encourage normal eye contact and regular rapport, and make sure they have an informed response for when a guest inevitably asks, "what's that thing in your hand?"
Additionally, your staff should know when their time would be best spent working the line or working behind the counter. Make sure everyone knows at what point the tablets should be wielded in your restaurant.
Is it when the line hits ten or more people?
Should order takers specify that the tablets are for cards only?
Is it from 12:00-2:00 every day?
Is it all the time?
Have these guidelines and best practices mapped out and clearly communicated. That way, someone can know for sure if they should be prepping the kitchen, handling a food supply delivery, or busting the line.
Step 3: Start Taking Orders (and Payment)
Once you're equipped and your staff is trained, it's time to start line busting.
During your busiest hours, hand workers a tablet. If the counter is wide enough, have a second line form for employees to call guests up, place their orders, and pay on the spot by card.
If your restaurant is small or has room for a single file line, send a server out to a mid-point of the line where they can work their way down using the tablet to take orders.
The tablets are also helpful for adding members to your restaurant's loyalty program. After paying and selecting a tip from the tablet, guests can opt into your restaurant's rewards program.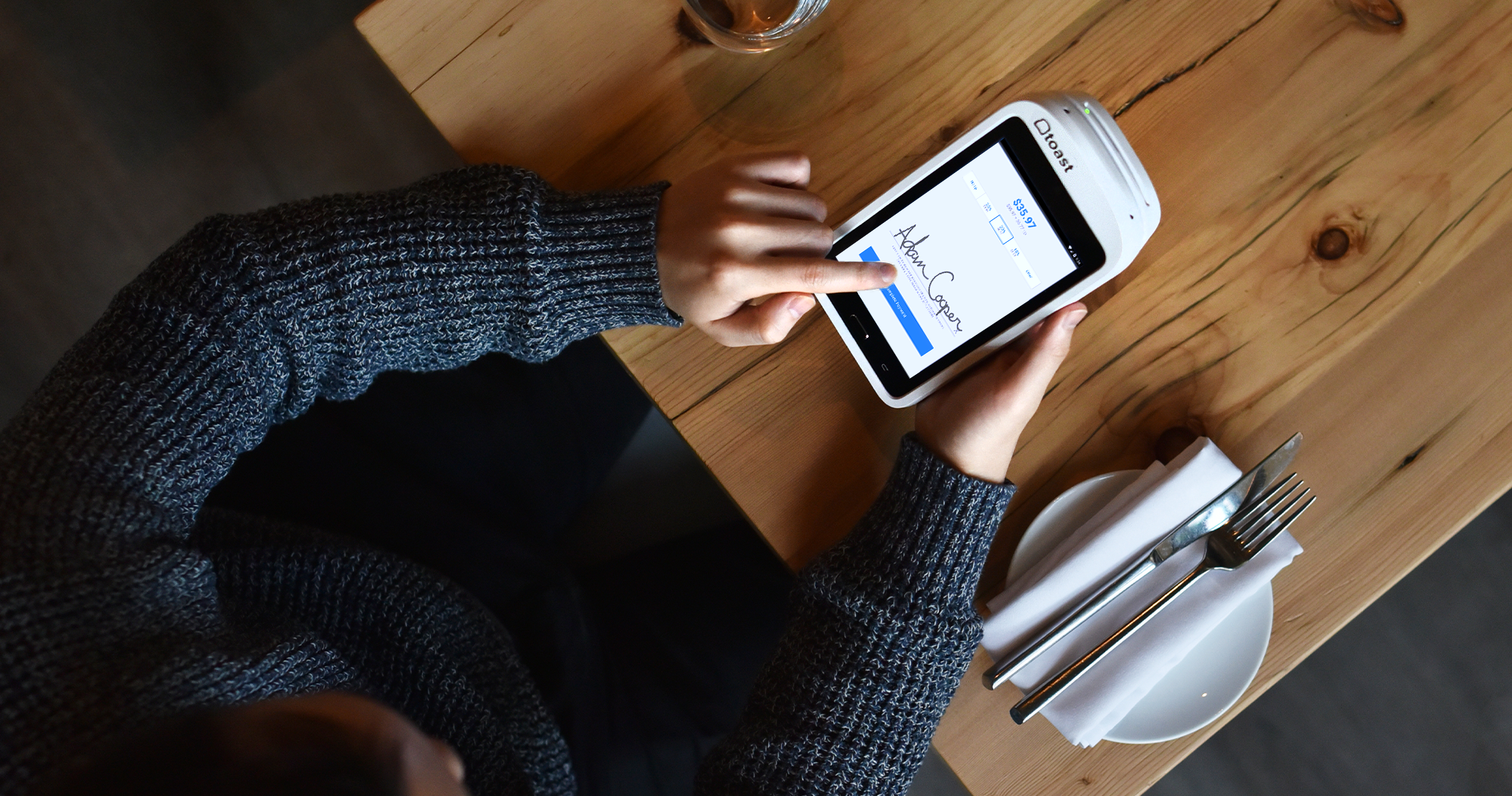 You may have to staff up one or two more people to work the tablets, but with the added revenue, the wages will likely pay for themselves several times over – especially during your busiest hours.