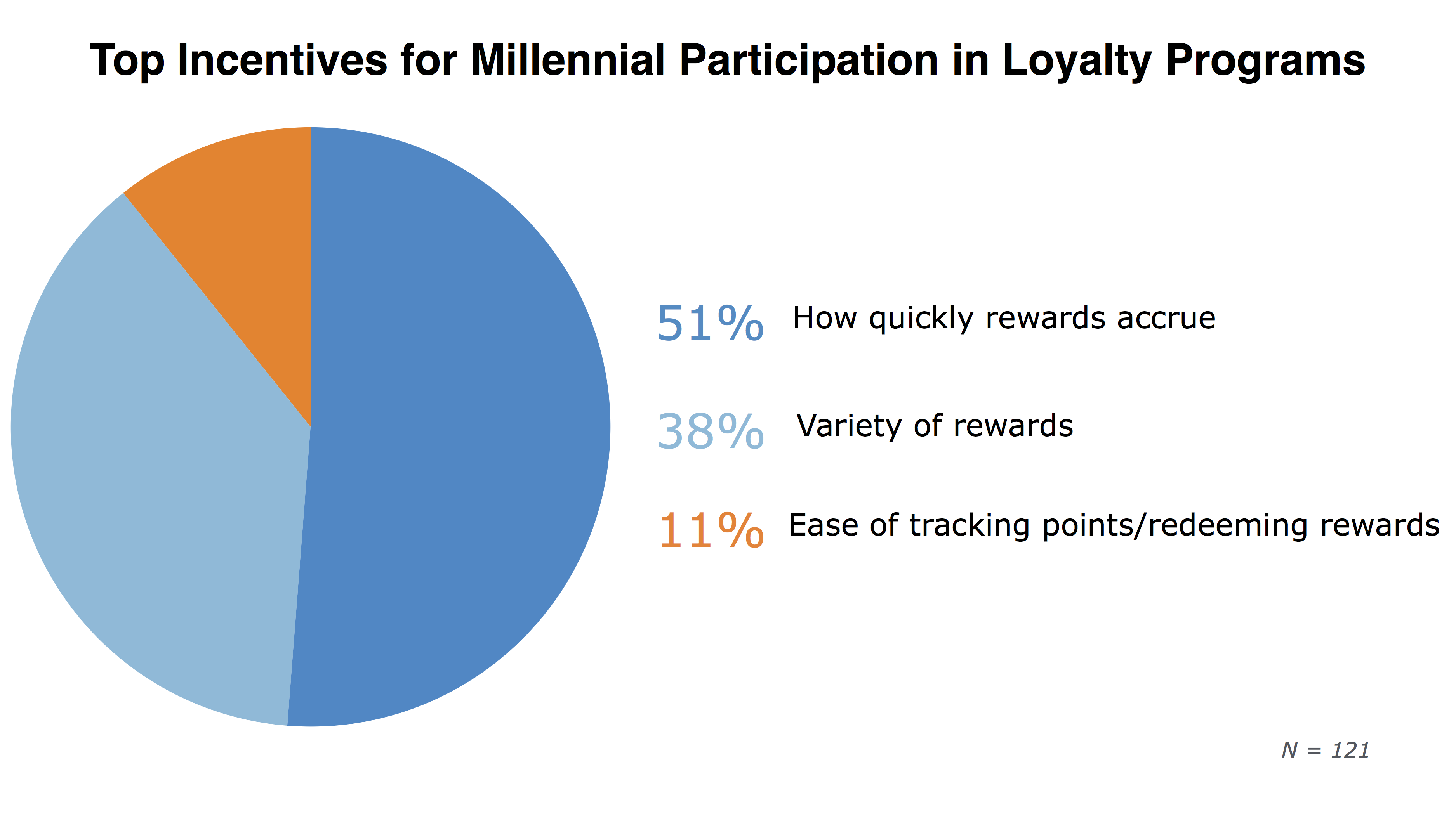 Does your restaurant loyalty program excite millennials?
To identify what this profitable demographic wants (and doesn't want) from their restaurant loyalty program, Software Advice released a study with in-depth research. Here are four key findings:
59% quit restaurant loyalty programs because the "rewards aren't valuable enough"
51% cite the speed they'd accrue loyalty rewards as the biggest incentive for joining
Most popular reward is Discounts (37%), beating out Points for $$ Spent or Visit Count
38% still prefer a loyalty card, just shy of the 40% who want to track/redeem rewards on an app
Why should restaurant operators consider what this valuable generation wants before setting up a loyalty program in 2016? Check out the Q&A with the main researcher of this study below, and sign up for our restaurant loyalty webinar to learn more tips and tricks.
You focused your new research on millennials. Why is that?
We focused the report on millennials quite simply, and not in an attempt to sound cliché, but because they're quite literally the future. Millennials have topped baby boomers as the most valuable restaurant customer segment. Recent reports indicate that millennials now outnumber baby boomers as the largest demographic.
What's more, reports also point to the fact that nearly half of millennials are eating out at least once a week. The data also found that over a third (36%) of millennials are getting take-out and/or delivery once a week. That's a lot of market share for restaurants to capitalize on.
Finally, we focused on millennials because there are mixed feelings regarding their brand loyalty and how to capture it. Hopefully our data will help out restaurant owners see that this demographic is key to focus on.
What kinds of rewards did you find were the most attractive to this age group?
Our recent report found that millennials are most incentivized by a restaurant loyalty program that offers rewards in the form of discounts (37%) and earning points (30%) from purchases made at the store. So a combination these rewards would be most opportune for attracting and engaging with millennials.
We also found that 51% of millennials are concerned with the length of time it takes for rewards to accrue and 38% want to see a variety of rewards. So along with offering points to spend on discounts, restaurants should be rewarding millennials early and often with a variety of rewards.
Are those the things that restaurant operators should focus on if they want to rope in that crowd, perhaps if they wanted to start or revise a loyalty program with 2016 around the corner?
These findings really lay out a great blueprint for business owners looking to begin or refine a loyalty program that successfully engages millennials. However, the first step is to adopt a POS system. Our data indicates that 63% of restaurants still don't have a POS system in place. This is the first block in the foundation of a successful restaurant in general, let alone a restaurant loyalty program.
Features like inventory management, food costs and sales reporting and analytics automate tedious manual processes. This frees up restaurant operators to spend more time with their staff and customers, ensuring positive experiences are being had by all.
What do millennials want least from a restaurant rewards program?
Millennials don't want invaluable rewards, nor do they want a bland rewards program with no variety. We found that 59% of millennials have quit restaurant loyalty programs in the past because the rewards simply weren't valuable enough, and 32% have done the same because of a lack of variety.
Something else that should be top of mind for restaurant operators is that over a quarter (27%) of millennials have quit a loyalty program because it was too complicated. Be sure that this loyalty program is heightening the customer experience and not diminishing it in any way.
If a restaurant owner's current customer base doesn't have a lot of younger patrons, do you think they should shift their whole strategy to cater to millennials?
Restaurants need to have a specified, thorough brand to target their customer base. I don't want to say that all restaurants need to drop everything and start catering to millennials. However, restaurants with a great exposure to millennial customers would do well building a loyalty program that's relevant to them.
One thing that's important to keep in mind is that restaurants naturally operate on very small margins. This means any sort of rewards program, be it for millennials or otherwise, has to add to the bottom line and not detract from it. For this reason, successful restaurant loyalty programs will engage millennials in non-monetary ways to create and sustain engagement without their revenue taking a hit from free giveaways and the likes. An example of this is offering preferred or exclusive reservations to loyalty members. It can also be as simple as aligning with causes that millennial customers care about such as locally sourced ingredients or specific charities.
What can a restaurant do to adopt a loyalty program?
As I mentioned before, the cornerstone of great restaurant loyalty programs is a fully-functioning POS system. This system provides restaurant operators with key insights into their business and also frees them up to focus on better serving customers.
Though the selection process can sometimes be time-consuming and intimidating, it's good for restaurants to know their options and make sure to choose the right system that matches their needs.