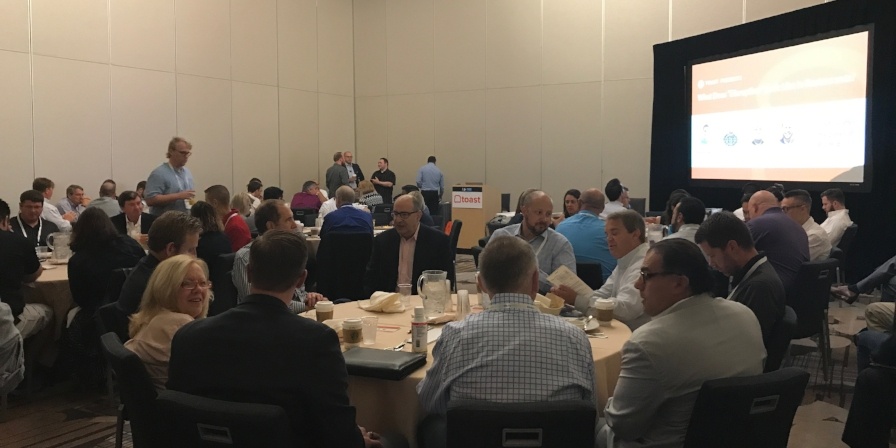 With over 1,000 total attendees, 560+ restaurant operators walking the floor, and 15 of the top 25 restaurant chains represented, FSTEC is the largest foodservice technology event of the year.
But even though smaller, single-location restaurant owners didn't attend the event by the thousands, that doesn't mean they still can't learn a few things about the future of the food and the hospitality industry and what role technology will play.
Robots, advanced machines, and automation may be arriving sooner than expected - and your restaurant operations could be impacted. Enterprise or solo, this roundup is for you.
Below are five key takeaways from Toast's restaurant tech panel at FSTEC 2017. Restaurant giants b.good, Bareburger, and Eastman Egg share their operation insights from using the best-in-class restaurant technology to do everything from running the kitchen to running marketing campaigns.
Watch the full FSTEC panel hosted by Toast Co-Founder Aman Narang below!
Any restaurateur knows there are at least five things they need to do well.
Take orders efficiently.
Make meals.
Serve food.
Close the check.
Drive more business.
Let's go through them one-by-one in the context of what we learned from FSTEC 2017.
1. Handhelds Are Speeding Up the Ordering Process
Imagine how much time could be cut from the time it takes to seat guests to when their orders are entered into the POS.
Sometimes, a server has to stop by a few tables before entering food orders, prolonging the entire restaurant experience.
At the FSTEC panel, Bareburger CTO Eric Kinniburgh said the average ticket time for his restaurant is only 12 minutes because of the smoother ordering process brought on by his handheld POS system. In the back-end, these tablets are useful for collecting customer data via digital receipts and credit card transactions.
While some restaurant owners are skeptical about technology interfering with the guest experience, Kinniburgh has found the opposite is true, and that technology improves the human aspect of his guests' experiences.
"With the handheld tablets, you can have a conversation with guests while you're taking the order," Kinniburgh of Bareburger says. "They help our turn times and efficiency by eliminating another step in the process."
Kinniburgh also noted that his servers love them, and he couldn't pry them out of their hands even if he wanted to.

2. Modern Kitchen Display Screens Are Revolutionizing the Kitchen
Nothing's worse than losing a ticket in the kitchen. With an intuitive kitchen display system, this is never a concern.
When orders come through multiple channels - often at the same time - the ability to optimize your kitchen workflow is crucial. Typically, orders are handled on a table-by-table or party-by-party basis with little consideration to stations and food type.
But what if cooks just want to know how many patties should be on the grill, or how many wings should go in the fryer? Modern kitchen display screens can improve speed of service by giving chefs more control in how orders hit the screen, making the entire cooking process more efficient.
"We can more effectively cook to order using KDS," Hunter Schwatz, CEO of Eastman Egg said. "Throughput is sped up and it's visualized more easily for multiple people at the same time. We have 2-3 people working on an order, which speeds up throughput. That wouldn't be possible with a printed ticket."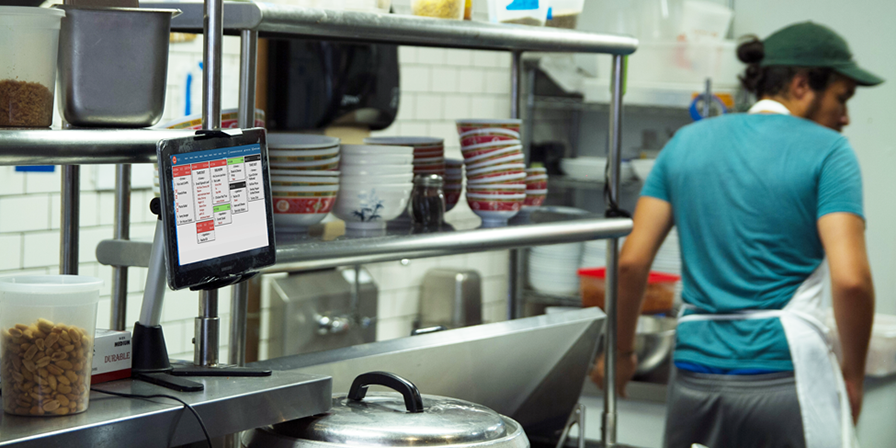 3. Online Ordering Is Rising in Prominence
When online ordering isn't integrated into your restaurant POS, your staff has to handle in-house orders, phone calls, and printed out or digitally-submitted online orders. That's the trifecta of restaurant disaster.
Online ordering is only continuing to grow, so bringing your online ordering program in-house at an affordable cost lets you gain independence from third-party online ordering sites and their hefty, ever-changing fees. If your restaurant caters to on-the-go customers, it could also make sense to develop an app - as 31% of restaurant-goers ordered through a restaurant's app this year.
Eastman Egg made a strategic decision to build out their mobile ordering app three years ago and the business has seen the online ordering contribution increase from 5% to 30% of their revenue.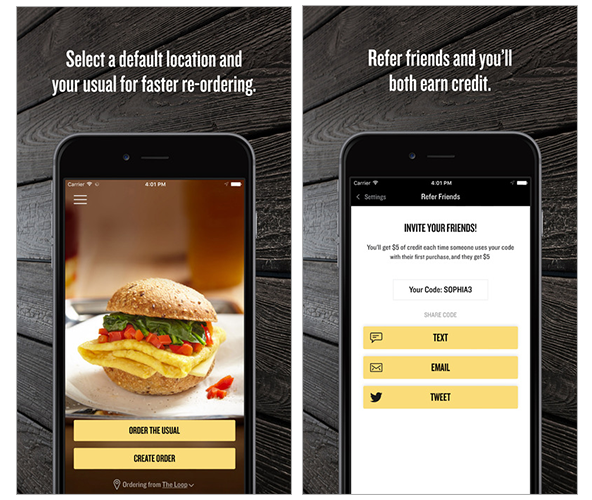 How do they do it? Geo-location. Using geo-location and the Toast API, Eastman Egg's app is designed to delight customers with a piping hot breakfast just as they walk in the door.
"Our customers can't control their commute and eggs don't sit very well," said Hunter Schwatz, CEO of Eastman Egg. "With the geo-location functionality in our app, we're telling customers, 'We can be adaptable to your schedule and still deliver the best product.'"
The Eastman Egg marketing team collects data from their POS system to push the adoption of the app through effective email marketing and relevant promotions.
With only three locations, Eastman Egg is proving that you don't have to have 100 locations to be a restaurant tech leader.
4. Repeat Visits Lie in Loyalty
Let's chat about restaurant loyalty.
No, we're not talking about the punch card. We're talking about innovative, revolutionary, and proven methods to generate loyal restaurant guests.
Durnig the panel, b.good VP of Analytics Austin Brinson explained how the company was able to pull data out for their loyalty program every 60 seconds using Toast API. The company can then use data to drive loyalty with cost-effective testing by looking at demographic, customer, and ticket profiles.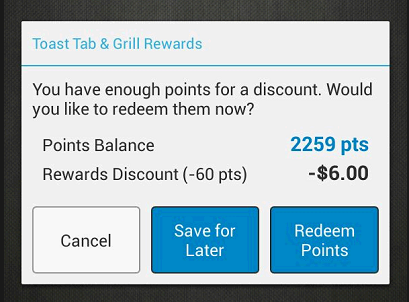 Brinson explained that b.good uses machine learning to automate and make sure they can target every single person and not have to do it manually.
"Smaller brands like ourselves do not have an infinite marketing budget, so the most cost-effective strategy is to drive the loyalty and bring customer back," Brinson says. "The industry is a zero sum game, so instead of taking it from competitors, it is a lot easier for us to take it from our customers and drive traffic growth from there"
Brinson thinks that the food industry is behind the retail industry when it comes to offering relevant loyalty and promotion, so for b.good, the next 2-3 years is all about loyalty.
5. Robots Are Taking Over!
Labor is becoming more expensive and restaurant minimum wage is continuing to hike. It's hard to meet wage requirements in such a low margin business, so collaborative robots are a big (yet wildly futuristic and expensive) opportunity.
Eric Kinniburgh of Bareburger mentioned that there is already existing solution waiting to be commercialized, like robot burger flippers. This investment may only be wise for multi-location businesses, but the good news is that this technology can be used in tandem with the back-of-house staff so as not to kill jobs but instead expedite work.
What were your takeaways from FSTEC 2017? Let us know in the comments below!