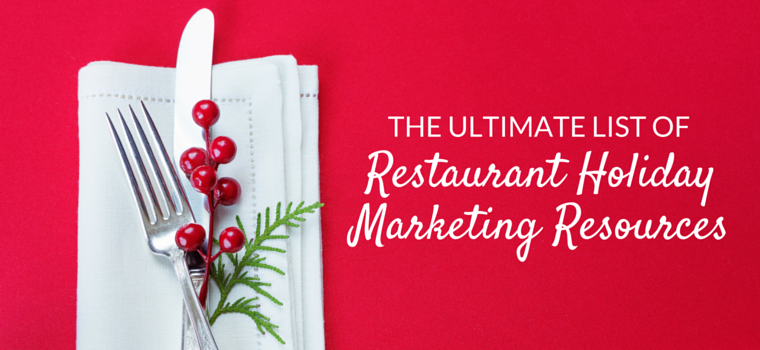 The holiday season is upon us, which means now is a great time to beef up your restaurant marketing efforts to increase seasonal sales.
Luckily, there's an incredible wealth of completely free online resources for novice to advanced marketers.
Dig into these juicy ideas and get a head start on your restaurant holiday marketing to increase revenue early and often.
10 Holiday Promotion Ideas For Your Restaurant
Here are a few ideas for the holiday season to get you started...
Promote a special holiday menu or item - highlight what's new and special right now.
Promote gift cards as a great gift for friends/family - gift cards are the #1 most requested gift, why not have that be a gift card to your restaurant?
Offer customization of gift cards - a special message or card can offer some personalization to counteract the concern over their "generic" nature.
Team up with other local businesses for unique gift opportunities - for example, team up with a nearby hotel for a free night and dinner and raffle it off or give it away as part of a charity event.
Offer incentives or raffle off prizes for off-peak hour visits or gift card purchases to boost sales.
Promote holiday hours - so your customers know when they can visit you.
Remember to build your email list - with this increase in engagement, remember to capture customer contact information so you can continue to market to them after the holiday season.
Thank your most loyal customers - even a simple email can let your customers know you appreciate them.
Host a holiday season kickoff event to get customers coming in early and often.
Promote hosting and/or catering holiday parties - encourage booking reservations or orders early to avoid the rush.
Deck the Halls (Inboxes?) With Holiday Email Marketing
5 Restaurant Email Marketing Tips
Focus

your email on a single announcement, like a holiday menu or gift card offer, to maximize response

Segment

your email list and send different types of emails to loyal customers vs. big spenders vs. occasional visitors

Offer

your loyal customers early or priority access to special offers, like early tickets to a New Year's event

Personalize

your emails - here are

5 ideas for personalized restaurant emails

Start early

- don't wait until the middle of the holiday season, when your customers are busy and traveling, get on their radar now
Restaurant Email Marketing Tools
There are a lot of email service providers that offer very low, reasonable rates (<$20/month) if you're serious about your email program. But if you're just getting started and want something truly for free, these companies offer completely free plans:
1400+ Free Email Templates
MailChimp and Vertical Response both have pre-built email templates as well as tools to create your own custom template. If you still want more designs that you can copy/paste, here are a few free downloadable resources:
Spread Good Cheer with Social Media Marketing
6 Restaurant Social Media Strategies & Best Practices
Offer exclusive deals

to your social followers - this will help you get more followers and engagement online, driving more consistent traffic in-store.

Share photos

- a picture's worth a thousand words, and pictures perform even better on social media than 140 characters. Share photos of your food, your staff, or even your customers enjoying their visit.

Size up

- make sure the images you post on each social network aren't fuzzy or cut off.

Here's a guide to image sizes by social media site.

Yelp, Facebook, Instagram, Twitter

- focus your time on the sites that matter most for restaurant engagement. That's likely Yelp, Facebook, Instagram, and Twitter. For specific demographic data, check out these resources from the

Pew Research Center

and

Sprout Social

.

Respond

to even the toughest interactions on social media to catch complaints early and turn unhappy customers into happy ones. Here are some best practices on

how to respond to restaurant customer complaints on social media

.

Update

your social media profiles to have your most up-to-date menu, hours, and directions. Those are the top things people are looking for, so make them easy to find!
60+ Free Social Media Marketing Templates
Looking for inspiration? Check out these 8 examples of great restaurant social media marketing.
'Tis the Season to Update Your Restaurant Website
Restaurant Website Best Practices

Add your key information

- including your address, phone number, hours, menu, social media profiles, gift card and online ordering links, and photos.

Optimize for mobile

- many of your customers and potential customers are using their smartphones just before deciding to visit your restaurant. Test if your website is mobile-friendly using

Google's Mobile-Friendly Test

.

Update your website for the holiday season

- make sure all of the relevant seasonal info is there, including holiday menus, holiday hours, and special events. Have a function room? Make sure it's noted on your website and include some photos and information like capacity numbers.
Tools to Amp Up your Website Game

3 Tools to Build a Website for Free
Need some inspiration? Here are 50 examples of great restaurant websites.
Amp Up Your Gift Card Sales
One of the best ways to boost sales around the holidays is to get customers buying gift cards as presents - whether it gets your loyal customers coming back again and again or getting new customers coming in to use the cards in the new year.
Gift Card Sales Strategies
Get more tips and data about gift card purchases in this infographic.
Have other favorite holiday marketing tools and tips? Post them in the comments below!