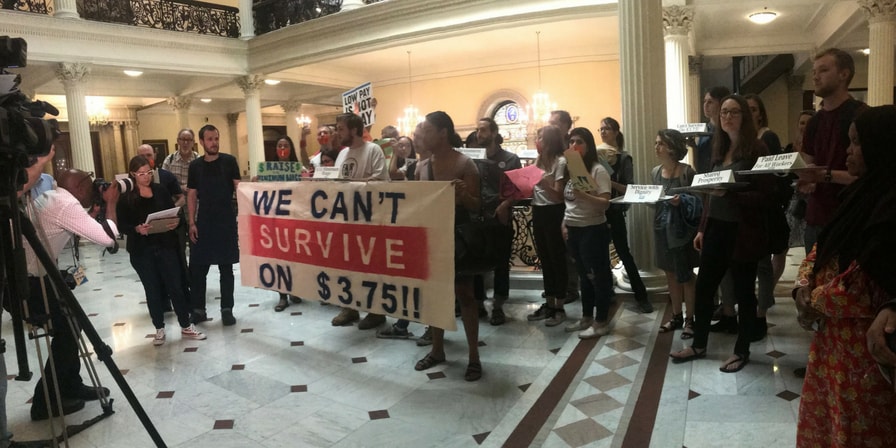 At the Massachusetts State House on Tuesday, chants from impassioned tipped wage restaurant workers and allies from two non-profit groups, Raise Up Massachusetts and Fair Shot For All, echoed in the halls as the battle for an increased minimum wage in The Bay State reached a defining point.
Two state level bills – Bill H.2365 and Bill S.1004 – will be voted on July 2nd; their impact has the potential to reshape the recognized minimum wage for both tipped wage and non-tipped wage workers.
Currently, Massachusetts recognizes an $11 hourly minimum wage for non-tipped workers and a $3.75 hourly minimum wage for tipped workers, higher than the $2.13 federal minimum wage for tipped workers. If passed, these new pieces of legislation would incrementally raise the minimum wage in Massachusetts over the next four years for non-tipped workers, culminating in a $15 hourly minimum wage in January of 2021. For tipped workers, the hourly minimum wage would incrementally increase over the next eight years, ultimately reaching $15 an hour in January of 2026.
At today's rally – organized by Raise Up Massachusetts, a grassroots alliance of many Massachusetts-based social justice and advocacy groups – tipped workers from within the Massachusetts restaurant industry shared their stories, detailing their unsavory experiences while working for tips.
One former server's story was mired with instances of sexual harassment and assault at the hands of former customers who would take advantage of her situation, knowing she was caught between a rock and a hard place: speak up and lose out on potential tips, or stay quiet and make more money.
When working for tips, servers are "pawns in an exploitative power network," she claimed, where customers ultimately hold the upper hand in determining the size of the server's paycheck. As she said, "cooks and back of house employees always go home with a reliable paycheck, while ours always say $0.00".
Two student activists with Fair Shot For All – a local advocacy group aimed at preserving the middle class and ending rising wage inequality in Massachusetts – shared stories of the difficulty they face as student tipped workers who rely on their wages to alleviate tuition related costs.
"3.75 doesn't even get you a cup of coffee from Starbucks," one student said.
If the Massachusetts House and Senate vote in favor of the two bills on the table, they'll be the latest to add their names to the list of 18 states and numerous cities who have enacted legislation in recent months to increase their locally recognized hourly minimum wage, whether it be to reach a benchmark number – such as $15 – or to better balance against the local cost of living.
The national debates over acceptable hourly minimum wage rates and the practice of tipping have each come center stage in recent months.
With the rising cost of living – including skyrocketing rent prices in major cities like New York, San Francisco, and Boston – employees are finding that it's impossible live on the current hourly minimum wage rate, let alone support a family; in February, Eater published a report detailing the ways in which tipping culture disproportionately impacts women and people of color in the restaurant industry in negative ways.
Raising the minimum wage doesn't come without it's consequences: many small business owners have been forced to reluctantly layoff staff as they're unable to afford to pay their higher hourly rate.
At the current hourly rate, labor costs absorb between 50 and 70 percent of the average restaurant's monthly revenue; by increasing the legally mandated hourly minimum wage for tipped-wage employees, restaurant owners and operators can expect to see a directly related spike in the amount of money they'll need to allocate monthly to cover labor costs.
Sadly, increasing operational overhead isn't something many restaurant owners can manage in an already risky, oversaturated industry where many restaurant owners are struggling to stay afloat.
Whether Massachusetts legislators will choose to pass bills H.2365 and S.1004 is still up in the air, as is the fate of tipping front of house workers in Bay State restaurants.
For restaurateurs hoping to learn more about the impact an increased minimum wage might have on their operations, Toast sat down with restaurant owners, operators, and managers in both Seattle and Los Angeles as their states considered increasing the local hourly minimum wage. Listen to the conversations, including their creative advice for ways restaurants can accommodate the change, below.
Click here to learn from the Los Angeles restaurant industry.