Rolled out on May 7, 2018, the new FDA menu labeling regulations target chain restaurants with 20+ locations, now requiring them to provide nutritional details for both food and beverages on their menus.
Some restaurants are skeptical about the effect this new regulation will have on businesses, but the FDA is confident that it will help Americans make better choices when dining out.
Let's dive into everything you need to know about the new FDA menu labeling laws about posted calorie information and how you can properly disclose calorie information on your menu without scaring customers.
For answers to commonly asked questions, click below to read our FAQ on menu labeling from back in 2015 when the regulations were first introduced.
Empowering Americans To Make Healthier Choices
Although these new menu labeling rules may have your customers reconsidering their favorite meal, it's intended to help people to make better choices when dining out by being better informed about nutrition.
The FDA is the latest big name adding their support to the healthy living craze sweeping the country. Health and nutrition are increasingly important to today's population; people are conscious of what's going into their food and how it's made now more than ever. In the words of SELF Magazine, "Being healthy is all the rage right now."
Sensing the booming trend, many companies — including restaurants — have incorporated new healthy living options to their offerings: Restaurants tailored to providing healthy menu options like energy fuel plates, green juices, and super-food packed bowls are on the rise; supermarkets geared toward organic, local, and heart-healthy products have shifted from novelty to norm.
Stats show that the United States is the single largest consumer market for organic produce in the entire world, with 51% of Americans purchasing organic produce. In 2017, the retail sales of natural and organic foods in the United States passed 43 billion dollars. In a similar vein, the non-profit research firm The Global Wellness Institute's annual Global Wellness Economy Monitor values the international "wellness" economy at $3.7 trillion, with the United States leading the charge as the single largest spender in wellness-related categories.
Clearly, Americans are becoming more aware of what they choose to put in their bodies and both the foodservice and produce industries are responding to this shift in mindfulness.
Curious about your own suggested calorie intake? Use the calorie counter below to see how many calories you should be eating per day, based on your gender, height, weight, and activity level.
Being Healthy is "In"
Though the majority of Americans are proactively taking steps to lead healthier lives, making smarter choices and incorporating healthier options into your diet can be tricky when you're always on the go.
Rather than coming home after work or school to cook an entire meal when you're already hungry, eating at a restaurant or ordering takeout is a convenient, reliable option for busy Americans.
With online ordering, delivery apps, and fast-casual restaurants readily available both in person and online to satisfy hungry diners' desire for a quick, delicious, and stress-free meal, it makes sense more and more people are leaning on these options whenever their stomachs start to rumble.

Studies reinforce the notion that Americans prefer the convenience and ease of having someone else cook: According to a 2016 survey by Zagat, the average American goes out to eat 4.5 times per week, with millennials eating out an average of five times per week.
For Americans looking to stay healthy while dining out, the FDA's menu labeling regulations will provide more transparency when it comes to calorie counts and nutritional information at multi-unit restaurants, enabling diners to make more health-conscious decisions.

Read the Regulations
The FDA's menu labeling regulations apply to some but not all restaurants. As it states on the FDA's website:
"To be covered by the final rule, an establishment must meet certain criteria. First, the establishment must be a restaurant or similar retail food establishment, as defined in the rule. Next, the establishment must:
(1) be part of a chain of 20 or more locations,
(2) doing business under the same name, and
(3) offering for sale substantially the same menu items.
Establishments such as restaurants that are quick service and/or sit-down, food take-out facilities, pizza delivery establishments, food facilities in entertainment venues (e.g., movie theaters, bowling alleys), cafeterias, coffee shops, superstores, grocery and convenience stores, are covered if they meet the criteria listed above."
Interestingly enough, these FDA menu labeling regulations have been in the works for far longer than you may think: The new menu labeling rules rolling out in 2018 were originally a part of the Obama Administration's 2010 Affordable Care Act; the original deadlines for posting calorie counts on menus were back in 2016 but were delayed due to restaurants voicing concerns about potential negative effects on business as well as their need for more time to be considered compliant.
While some restaurants have needed a little more time to incorporate the new FDA's menu labeling rules into their restaurant operations, a few large chains have been including calorie counts on menus and menu boards for quite some time now.
Take Panera Bread, for example: Panera lists menu items' calorie information not only on in-store displays and kiosks, but online and within their mobile ordering app, as well.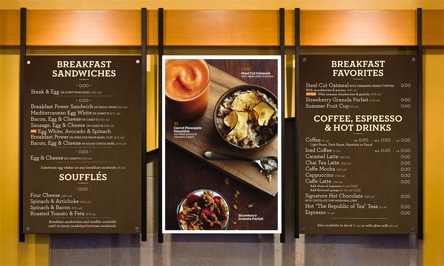 The same goes for well-known chains like McDonald's, Taco Bell, and Starbucks, whose names haven't traditionally been associated with healthy living (Super Size Me, anyone?).
Although the FDA's menu labeling regulations might seem like they could pose a threat to your business, chances are consumers are not only used to seeing calorie counts next to their favorite food but continue to support restaurants where the corresponding calorie counts may not be the healthiest.
Follow The Rules
The FDA has outlined the following requirements for properly labeling your menu to fit the standards. Applicable restaurants must:
1. Disclose calorie information on menus, menu boards, online menus, and the like for standard menu items INCLUDING alcoholic drinks.
Calorie information must also be included next to foods on display and on any self-serve foods that are standard menu items. The FDA defines menus and menu boards as,
"the primary writing of the covered establishment from which a customer makes an order selection. These include, but are not limited to, breakfast, lunch, and dinner menus; dessert menus; beverage menus; children's menus; other specialty menus; electronic menus; and online menus".
Each standard menu item's calorie information must adhere to the following guidelines:
It must appear next to the name or price of the corresponding menu item.
It must be written in a type size no smaller than that used for the corresponding menu item's name or price.
It must appear in the same color as that which is used for the corresponding menu item's name or price OR in a conspicuous color.
It must share the same contrasting background as that which is used for the corresponding menu item's name or price OR a background that is comparably contrasting.
2. Post a short, informed statement addressing suggested daily caloric intake on your restaurant's menus and menu boards.
The FDA says this statement must include the following: "2,000 calories a day is used for general nutrition advice, but calorie needs vary." Regarding children's menus, the FDA says restaurants have the option to include "an optional separate statement...as a substitute for or in addition to the succinct statement."
This short statement, or "succinct statement" as the FDA call it, must adhere to the following guidelines:



It must be posted clearly and prominently.
It must be written in a type size no smaller than that used for the posted calorie information.
It must appear in the same color as that which is used for the posted calorie information.
It must share the same contrasting background as that which is used for the posted calorie information.
3. Post a written statement on menus and menu boards that additional, written nutritional information is available upon request.
Restaurants must prepare additional nutritional information for each menu item to be available upon request. This information must include the following:



Total calories
Calories from fat
Total fat
Saturated fat
Trans fat
Cholesterol
Sodium
Total carbohydrates
Fibers
Sugars
Protein
Further information about the FDA's new regulations around posted calorie information, including the answers to commonly asked questions, can be found here.
How To Share Calorie Information Without Scaring Your Customers
The best way to handle the new FDA menu labeling rollout is with a positive, open attitude; being transparent with your customers is the best way to gain trust and loyalty.
When customers ask about the new inclusion of nutritional information on your menu, use this opportunity to align your brand with the healthy-living movement. Explain why your business takes pride in providing nutritional information and what other steps you've taken as an organization to better the lives of your customers and your community.
Teach your restaurant staff some additional talking points to share with customers who are curious about the change, as well as healthier menu options or modifications they can suggest to customers. Having an open dialogue shows you care about the customer's education about your food.
Use the public's shift toward healthy dining to your advantage with an upcoming marketing campaign; this is a great tactic to win over new health-conscious customers and re-engage with existing customers who may have not considered you a healthy option before. You could even orient the campaign to address new trending diets, like Whole30 and Keto, calling out the menu items that diners would be able to enjoy without breaking their commitment.
By shedding a positive light on maintaining a health-conscious lifestyle and continuing the conversation with your customers, new and existing customers will begin to associate your brand with healthy living and positive change.
Count Memories, Not Calories
The new FDA menu labeling regulation has produced a mixed bag of opinions from restaurant owners, operators, and employers everywhere. But, with the new menu labeling law already in place, chain restaurants must adapt to the changes it may bring. And let's face it: if your burger is irresistible, chances are diners will still order it!
For more detailed information on the official rules, visit the FDA website.