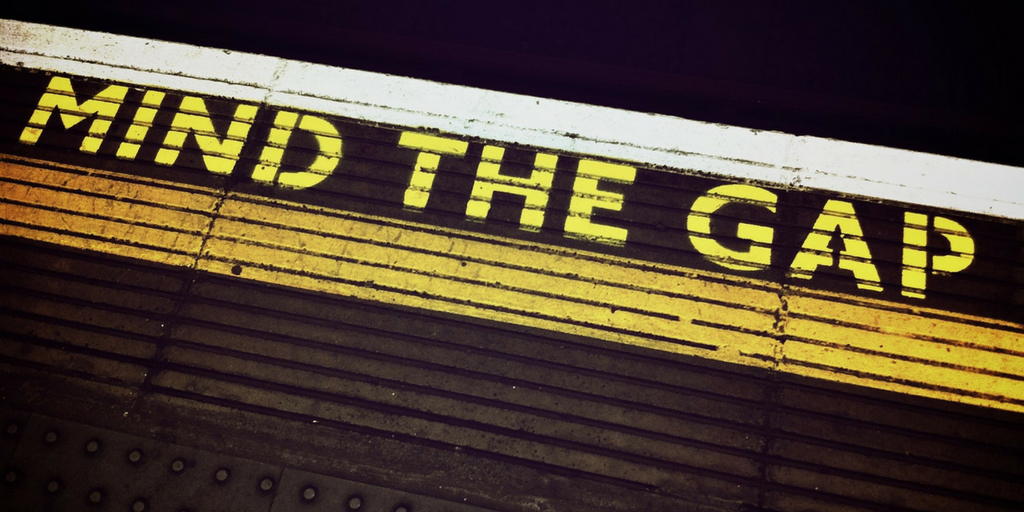 Equal Pay Day is the second Tuesday of April every year. The day symbolizes how far into the year women must work to earn what men earned by December 31 of the last year, and was organized by the National Committee on Pay Equity in 1996 as a public awareness event.
Many restaurants, cafes, and local businesses have commemorated Equal Pay Day over the years. Check out how these restaurants are participating this year.
1. Local Coffee Shops Use Custom Coffee Sleeves and Napkins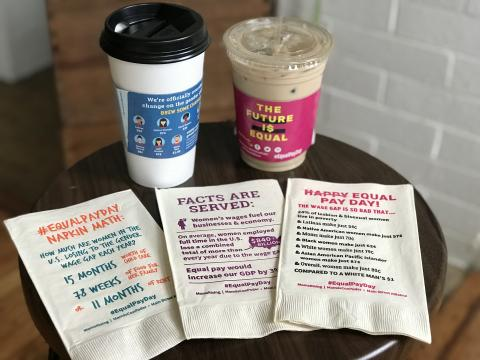 Main Street Alliance teamed up with Mom's Rising to mark Equal Pay Day by asking over 30 coffee shops and other small businesses to use custom coffee sleeves and napkins today.
The napkins call out some of the major differences between the overall compensation between males and females.
Participating restaurants are:
2. Starbucks Offers Tools to Help Companies Close the Gender Pay Gap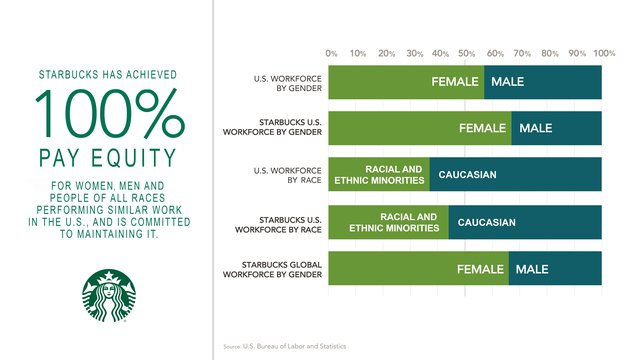 Starbucks has achieved 100% pay equity for partners of all genders and races performing similar work across the U.S. and is now offering tools to help other businesses do the same, according to Lucy Helm, Starbucks' chief partner officer, at the company's 2018 Annual Meeting of Shareholders.
Starbucks is also publicly sharing the tools and best practices the company used to reach this goal, hoping that other employers will join in working toward overall pay equity. One example is a calculator to objectively determine target starting pay ranges based on a candidate's experience.
"We tried to create tools to help us approach pay in a consistent and objective way, and remove the kind of subjectivity that can lead to pay bias," said Sara Bowen, an attorney who leads Starbucks Inclusion, Diversity, Equity and Accessibility team.
"These tools affect hundreds if not thousands of pay decisions every year. This work has always been about our partners — and our commitment to create an equitable environment where everyone can flourish and be valued. This is a complicated issue, and it is not about one single moment, but about the ongoing work to make equity a reality."
3. The Works Bakery Gives Women a 20% Discount

The Works Bakery Cafe will be commemorating the occasion by giving women a 20% discount, reports Sentinel Source.
"I grew up with a single mom," Richard French, president of The Works Bakery Cafe, said in a news release. "I know first-hand the implications of the wage gap — how hard my mom had to work to make ends meet. That's why it's a critical issue for me now. I want to urge others to connect the dots between wages and the health of families."
The Works Bakery Cafe partners for Equal Pay Day include Granite State Progress and MomsRising. The Works Cafe is an eight-unit regional bakery cafe concept founded in 1988 with cafes in New Hampshire, Vermont, Maine and Massachusetts.
How Will Your Restaurant Participate?
Restaurants around the world are commemorating Equal Pay Day. How will your restaurant participate?
Leave a comment below to share!