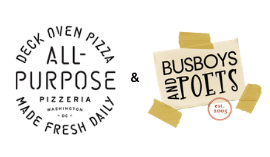 ---
---
Results
$2,500/week
Revenue
Customer Story
How 2 D.C. Restaurants Take Control of Delivery with Toast
All-Purpose Pizzeria & Busboys and Poets Optimize Delivery with Toast
Heading into winter during a global pandemic, many restaurateurs have to make hard business decisions: Do I invest in heaters and extend outdoor dining as long as possible? Do I reduce all costs and hope to stick it out? Where do I focus my efforts?

According to Toast data, since March, off-premise sales have skyrocketed from a mere 15% to over 70% at restaurants across the U.S., solidifying the importance of delivery now more than ever. Two Washington D.C. restaurants agree that of all the tough decisions to make this season, one is clear: double down on delivery with Toast.
All-Purpose Pizzeria, part of the Red Stone Group, is known for their neighborhood nostalgia and Jersey-style, deck oven pizzas. Just a few blocks away is Busboys and Poets: a full-service restaurant & bar that serves as a landmark for community gathering and social justice. They've both turned to Toast to help streamline their delivery operations and costs, but they've taken two different approaches to getting there.
Offer your Own Delivery with Toast Delivery Services
Gareth Croke, Owner of All-Purpose Pizzeria, and Owner/Executive Chef Mike Friedman have had to embrace change in order to survive 2020. Since COVID-19 hit, they have shut their doors to indoor dining, and are relying on Toast Delivery Services to allow guests to order contactless delivery directly from them, without having to hire their own drivers.
On choosing to implement Toast Delivery Services, Gareth says, "It was a no brainer." Now, Gareth and his team are able to automatically dispatch orders that come over the phone or through their website to a 3rd party delivery driver. Through Toast Delivery Services alone, they're able to fulfill over $2,500 per week in delivery orders, while maintaining their margins and guest data.
With Toast Delivery Services, the fee structure is simple: 0% commissions, flat-rate pay-as-you-go pricing, and the ability to customize guest-facing fees, which was appealing to Gareth and Mike.
"Toast Delivery Services makes sense for us because it's a low barrier to entry, you can offset the flat fee onto your guest if you'd like, or you can customize it," says Gareth.
The flexibility in fee structure has allowed Gareth and Mike to get creative in giving back to their employees when they need it the most. All-Purpose instituted a 20% Employee Fund charge for each order-- all of which goes to both existing and furloughed employees.
This Employee Fund "wouldn't be possible with other delivery platforms, on top of all of the other fees," he adds.
Toast Delivery Services gave us more choice to be able to use our dollars in the best way possible during a pandemic: to make sure that our employees got paid, but also make sure that our customers didn't get dinged too hard." - Mike Friedman
When it comes to owning the delivery experience, Gareth and Mike also benefit from Toast's guest data, which they download weekly for an email to their 50,000 customers. According to Gareth, this weekly communication "directly, and positively, impacts sales. We see an uptick."
Chef Mike adds that the key to success is to stay creative. "We've had success with little promos here and there, whether it's a Jewish deli popup, an Election Night special, or a Parmesan festival." Mike says that both email and social media have been great to help get the word out.
Reduce Labor Costs with 3rd Party Delivery Integrations
Down the street at Busboys and Poets, Joy Zarembka, VP of Planning and Innovation, has relied on Toast's direct integrations with Doordash and Grubhub to boost orders and lean into delivery.
When the pandemic hit, Joy knew she needed to boost delivery business, but wasn't willing to put up with cumbersome tablets or expensive aggregators.
"Direct integration with Toast has saved us $600/week in labor and operational costs," says Joy, who would've had to hire someone to manage delivery tablets and POS entry if it weren't for Toast.
"I've had conversations with everyone out there. Nothing else seems to make sense except a direct integration between Toast and Doordash, which cuts out the middleman," she adds.
The setup for Joy was easy with Toast: "It was like flipping a switch. Once we said yes, all we did was fulfill orders."
This time saved allowed Joy and her team to get back to doing what they really love: Creating a great guest experience, and giving back to the community. "I don't manage a driver fleet, and I don't want to start now," says Joy. "Toast made the whole process seamless."
The Toast support for integration was amazing. They were able to explain complicated things in ways that you could understand." - Joy Zarembka
For Busboys and Poets, 3rd party marketplaces also help bring in new guests, which is why Doordash and Grubhub remain a crucial component to their business. "It's exposure to a new audience, it's zero to little effort, and it helps the bottom line," Joy says.

Mike and Gareth at All Purpose agree. While they use Toast Delivery Services as their main platform for website and phone orders, they understand the value of tapping into 3rd party marketplaces as well. Chef Mike says, "There's a much larger well of customers, which is why we have Toast as a primary option, but those 3rd party integrations keep us afloat as well."
Delivery: A Balancing Act
Choosing the right delivery solution for your restaurant is key, especially as we head into colder temperatures. While 3rd party integrations can help acquire new customers and reduce labor costs, Toast Delivery Services allows you to own the guest experience, optimize operational efficiency, and streamline your delivery fees - commission-free. A combination of the two is a great way to balance these benefits, as we've seen at All-Purpose.
Whichever route makes sense, both Joy and Gareth agree that Toast has made their delivery experience easier. On his experience in working with Toast, Gareth adds, "Toast actively seems to always try to get better and always seems to be working from the point of view of the restaurant."
With so many uncertainties in the world right now, delivery is an easy choice. However you choose to pursue it, Toast has delivery options that will allow you to adapt as needed to meet the needs of the moment.
Toast is tech-forward, nimble, ever-changing, it's able to keep up with some of the things that are happening in our environment: both in the world and in the restaurant industry." - Joy Zarembka