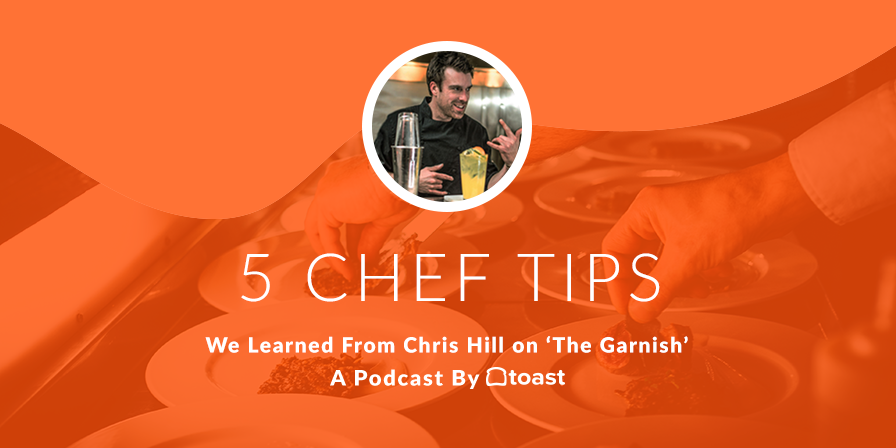 Before we get to today's tips - we wanted to share some big news!
Toast is proud to officially announce The Garnish: A Podcast by Toast. This new podcast can be enjoyed on-the-go and will feature success stories from established chefs and restaurateurs who share their top tips for restaurant success.
Our first episode features the author of the viral article "Dear Chefs, (This is For You)" and author of "Making the Cut," Chef Chris Hill.
Included in this article are the 5 most insightful takeaways Chris offers to listeners in the podcast. Read on to see what they are, or listen to the podcast here!
1. Your First Kitchen is Rarely Your Last
When Chris Hill was a teenager, he got his first job at the Atlanta Fish Market. This was his first rodeo, but it certainly wasn't his last.
After working in an office right out of grad school (more on this later), Chris decided to pursue his passion in the kitchen. But he didn't return to the fish market.
Instead, he started working in another restaurant. His entrepreneurial spirit and love of restaurants eventually resulted in Chris entering into (and inspiring) countless kitchens across America after shifting towards restaurant consulting.
2. It's Never Too Late to Do What You Love
Chris told us that he felt called back to the kitchen when he was working his desk job.
Chris had a college education, a Master's degree, and a promising future. Staying put and climbing the corporate ladder made perfect sense.
But it didn't for Chris.
"I'm too creative to sit at a desk all day," he said. "I didn't want to get to 35 or 40 and be too far in where I couldn't give this a try. I didn't want to have any regrets."
So he traded in his keyboard for a cutting board. He told us he hasn't looked back since.
3. If You're Working Hard, It's Worth It
"If it was easy, then we'd all do it," Chris said.
In the podcast, Chris brings up the staggeringly high restaurant failure rate. To avoid this, Chris recommends hard work, but also knowing when to take a step back, re-evaluate priorities outside of the kitchen, and ask yourself what you can do to make things better.
4. What Doesn't Pay Now Could Pay Later
Chris spent his early days in the business taking every opportunity to build his brand - and it paid off.
Before he was an official restaurant expert, Chris was a business professional with a background in marketing. He knows how important branding plays in the success of any type of business.

"I've been on probably 100 different TV segments over the course of the last five years - a lot of those for free. You're building a brand. Try to be helpful for people, for the local TV people, or whoever it is that can help you get from where you are to where you want to be."
Today, Chris has proven that taking the road less traveled is worth it.
5. Keep at It
I asked Chris what kept him going for three years while he was working in a struggling restaurant.
His response: "I knew that it would work."
Chris had a vision for his brand, his business, and his success. Despite doubt from others, Chris committed to finding a way to pave his own road for restaurant success.
To hear the rest of Chris Hill's story, click below.